PENGARUH DOSIS PUPUK KANDANG SAPI TERHADAP PERTUMBUHAN TANAMAN SAWI (Brassica juncea L.)
Imelda Dada Gole

Program Studi Agroteknologi, Fakultas Pertanian dan Bisnis, Universitas Mahasaraswati Denpasar

I Made Sukerta

Program Studi Agroteknologi, Fakultas Pertanian dan Bisnis, Universitas Mahasaraswati Denpasar

Bagus Putu Udiyana

Program Studi Agroteknologi, Fakultas Pertanian dan Bisnis, Universitas Mahasaraswati Denpasar
Keywords:
Cow Manure, Mustard, Growt
Abstract
Efffect of cow manure dosage on the growth of mustard plants (Brassica juncea L.). This study aims to determine the effect of cow manure doses on the growth of mustard greens. This research was conducted from 15 December 2018 to 26 January 2019,in the Kalpataru garden. SedapMalam, East Denpasar. This study used a randomized block design (RBD) with 6 treatments and 4 replications. The treatment of cow manure dosage consists of D1 (20g), D2 (40g), D3 (60g), D4 (80g), D5 (100g) and D0 (control). Each treatment was repeated 4 times so that there were 24 experimental units. Observations made were plant height, leaf number, leaf area, stem circumference, fresh weight and oven dry weight. The results showed that the doses of cow manure had a very significant effect on all parameters. From the manure doses studied, it was found that the growth of mustard plants was best found at doses of cow manure with a dose of 100 gr / polybag.
Downloads
Download data is not yet available.
References
Cahyono, B. 2003.Teknik dan Strategi Budidaya Sawi Hijau (Pai-Tsai). Hal 12-62. Yogyakarta : Yayasan Pustaka Nusantara
Hanolo, W, 1997. Tanggapan tanaman selada dan sawi terhadap dosis dan cara pemberian pupuk cair stimulant. Jurusan Agrotopika 1.
Haryanto, W., T. Suhartini, dan E. Rahayu. 2007. Tenik Penanaman Sawi dan Selada Secara Hidroponik. 2009. Yogyakarta : Kanisius
Harianto,E ., T, Suhartani 1995. Sawi dan selada.Penebar Swadaya. Jakarta
Harafiah, ali, K.,2005. Dasar-dasar Ilmu Tanah. Jakarta: PT. Grafindo Persada Lingga, Pinus dan
Marsono. 2007. Petunjuk Penggunaan Pupuk. Jakarta: Penebar Swadaya
Maulana, Yoga Nugraha. 2010. Kajian Penggunan Pupuk Organik dan Jenis Pupuk N terhadap kadar N tanah, serapan N dan Hasil Tanaman sawi (Brassica juncea L.) Pada Tanah Litosol Gemolong. Skripsi : Jurusan Ilmu Tanah Fakultas Pertanian Universitas Negri Sebelas Maret.
Rinsema, W.T 1993. Bemenstingen Mestsoffen. Terjemahan H. M. Saleh Bharata Niaga Media, Jakarta
Rukmana, R. 1994. Budidaya dan pengaturan panen Sayuran Dataran Rendah. Penebur Swadaya. Jakarta.
Setiwan, Tohari, Shiddieq, J .2013. Pengaruh Cekaman Kurang Air terhadap Beberapa Karakter Fisiologis Tanaman Nilam(Pogostemon cablinBenth), Jurnal Litri, vol. 19, no 3, hlm. 108-16
Subroto.1996. Tanah Pemanfaatan dan Dampaknya. Fajar Gemilang. Samarinda
Suriati. 1991. Pupuk dan Pemupukan. Medyatama Sarana Perkasa. Jakarta
Winaya, Djapa. 1989. Pengantar Ilmu Tanah. Fakultas Pertanian. Unud.Denpasar.
Poespodarsono, S., 1998. Dasar –dasar Pemuliaan Tanaman. IPB press, Bogor
Suriyatna, S. 1991, Pupuk dan pemupukan. Medyiatma Sarana Perkasa. Jakarta Sunaryono, 1972.Kunci bercocok tanam sayur-sayuran penting di Indonesia.Bandung: Sinar Baru Algesindo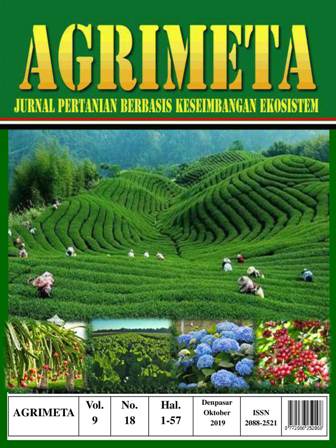 How to Cite
Gole, I. D., Sukerta, I. M., & Udiyana, B. P. (2019). PENGARUH DOSIS PUPUK KANDANG SAPI TERHADAP PERTUMBUHAN TANAMAN SAWI (Brassica juncea L.). AGRIMETA : Jurnal Pertanian Berbasis Keseimbangan Ekosistem, 9(18), 46-51. Retrieved from http://e-journal.unmas.ac.id/index.php/agrimeta/article/view/640