MORTALITAS DAN PERTUMBUHAN Cryptolestes ferrugineus STEPHENS (COLEOPTERA: CUCUJIDAE) PADA BEBERAPA TINGKATAN SUHU RUANG
NI Putu Eka Pratiwi

Program Studi Agroteknologi, Fakultas Pertanian dan Bisnis, Universitas Mahasaraswati Denpasar

I Dewa Nyoman Raka

Program Studi Agroteknologi, Fakultas Pertanian dan Bisnis, Universitas Mahasaraswati Denpasar

Komang Dean Ananda

Program Studi Agroteknologi, Fakultas Pertanian dan Bisnis, Universitas Mahasaraswati Denpasar
Keywords:
Mortality, Cryptolestes ferrugineus, room temperature, growth
Abstract
The research on the mortality and growth of Cryptolestes ferrugineus on IR-64 rice variety at the room temperatures of 20°C, 25°C, 30°C, 35°C and 40°C was done at the Pest Laboratory, Department of Plant Pest and Disease, Agriculture Faculty, University of Brawijaya, Malang. The results showed that C. ferrugineus could not survive at 40°C room temperature. The highest mortality of C. ferrugineus imago occurred at 40°C. Eggs produced by adult C. ferrugineus at 40°C cannot hatch into larvae, so development stops during the egg phase. The number of eggs of C. ferrugineus is produced more at room temperature 25°C than room temperature 20°C, 30°C, 35°C, and 40°C by showing the number of eggs at room temperature 25°C(85.20 items) more higher than the room temperature of 20°C(46.40 items), 30°C(55.40 items), 35°C (63.40 items) and 40°C (10.20 items)
Downloads
Download data is not yet available.
References
Abebe, F., T. Tefera, S. Mugo, Y. Beyene and S. Vidal. 2009. Resistence of Maize Varieties of the Maize Weevil S. zeamais. African Journal of Biotechnology. 8. (21) : 5937- 5943.
Bishop, G. W. 1959. The Comparative Bionomics of American Cryptolestes (Coleoptera: Cucujidae) Annual Entomology Society America 52: 657-665.
Davies, R. D. 1949. The Biology of Laemophloeus minutus Oliv. (Coleoptera : Cucujidae). Bulletin Entomology. Res 40: 63-82.
Fields, P. G. 1992. The Control of Stored Product Insect and Mites with Extreme Temperature. Journal Stored Product Research. 28 : 89- 118
Howe, R. W. 1956. The Effect of Temperature and Hunidity on Rate of Development and Mortality of AGRIMETA. VOL.9 NO.18. OKTOBER 2019. ISSN : 2088-2531 Page 33 Tribolium Castaneum (Herbest) (Coleoptera : Tenebrionidae). Annual Applied Biology. 44 (2), 356 368)
Kawamoto, H. 1989. Effect of Temperature on Adult Survival and Potential Fecundity of The Rusty Grain Beetle Cryptolestes ferrugineus. Japanese Society of Applied Entomology and Zoology 24 : 418- 423.
Mason, L. J. 2003. Grain Insect Fact Sheet E-227-W: Rusty, Flat, and Flour Mill Beetles Cryptolestes spp. Purdue University, Department of Entomology.
Rees, D. 2004. Insects of Stored Products. CSIRO Publishing, Collingwood, Australia.
Rilett, R. O. 1949. The Biology of Laemophloeus ferrugineus (Stephens) Canada J.Res .D. 27,112- 148.
Smith, L. B. 1965. The Intrinsic Rate of Natural Increase of Cryptolestes ferrugineus (Stephens) (Coleoptera, Cucujidae). Journal Stored Product 1: 35-49.
Sheppard, E. H. 1936. Notes on Cryptolestes ferrugineus (Stephens) Cucujidae Occurring in the Trichogramma minutum Parasite Laboratory of Colorado State College. Technical Bulletin 17.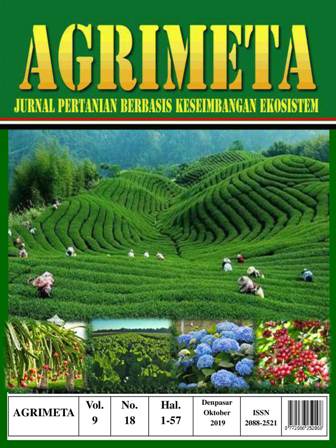 How to Cite
Pratiwi, N. P. E., Raka, I. D. N., & Ananda, K. D. (2019). MORTALITAS DAN PERTUMBUHAN Cryptolestes ferrugineus STEPHENS (COLEOPTERA: CUCUJIDAE) PADA BEBERAPA TINGKATAN SUHU RUANG. AGRIMETA : Jurnal Pertanian Berbasis Keseimbangan Ekosistem, 9(18), 28-33. Retrieved from http://e-journal.unmas.ac.id/index.php/agrimeta/article/view/637