ANALISIS PENDAPATAN USAHA TANI BUNGA KEMBANG SERIBU (Hydrangea) STUDI KASUS DI DESA GOBLEG
I Gede Dastra

Program Studi Agribisnis, Fakultas Pertanian dan Bisnis, Universitas Mahasaraswati Denpasar

Ni Gst. Ag. Gde Eka Martiningsih

Program Studi Agribisnis, Fakultas Pertanian dan Bisnis, Universitas Mahasaraswati Denpasar

Putu Sukanteri

Program Studi Agribisnis, Fakultas Pertanian dan Bisnis, Universitas Mahasaraswati Denpasar
Keywords:
Farming, income, efficiency, Return Cost Ratio
Abstract
The agricultural sector has a very important role in the development and economic recovery. Bunga Kembang Seribu (Hydrangea) is one of the commodities that contribute to rural economic development. Gobleg Village is an area this flower production centers in Bali. Kembang Seribu flowers have a very good prospect to be developed in Gobleg Village because it has a climate that is in accordance with the conditions of growing from plants. This study aims to determine the income of farmers, find out the problems faced in farming, and the efficiency of a Kembang Seribu flower farming obtained from respondent farmers in Gobleg Village. This research was conducted by taking 10 respondents in this area. The results showed the use of the production cost in six months was Rp. 2.682.000.00 per land area 82.5 Are with an average income received by farmers of Rp. 4,171,800.00 and obtain income return amounting to Rp.1.489.800.00 per average land area of 82.5 Are. The Efficiency as measured by Return Cost Ratio (R / C) obtained by 1.55. Based on the results of the study it is recommended that respondent farmers further improve the efficiency of the Kembang Seribu flower in Gobleg Village.
Downloads
Download data is not yet available.
References
Arikunto, Suharsimi. 2008. Metodelogi penelitian. Yogyakarta: Bina Aksara. KBPS, Kabupaten Buleleng. (2017, maret : Budidaya bunga potong hortensia di kawasan asah gobleg . Retrieved from http://cybex.pertanian.go.id: http://cybex.pertanian.go.id/materilokalita/detail/13399/budidaya-bunga-potonghortensia-di-kawasan-asah-gobleg Di akses minggu 2 desember 2018
Mubyarto,1995 pengantar ilmu pertanian. LP3ES, Jakarta. Rumawan I K. 2012. Analisis pendapatan usahatani kakao kecamatan susut, bangli [skripsi]. denpasar : Fakultas Pertanian, unmas Pertanian Denpasar.
Shinta, 2005. Ilmu Usahatani. Universitas Brawijaya Press, Magelang.
Soekartawi. 1995. Analisis Usahatani. Penerbit Universitas Indonesia: Jakarta.
Soekartawi. 1996. Ilmu Usahatani dan Penelitian untuk Pengembangan Petani Kecil. UI Press: Jakarta.
Soekartawi. 2002. Pembangunan Pertanian. Rajawali press: Jakarta. Soekartawi. 2003. faktor faktor produksi pertanian. Alfabeta:Jakarta.
Made,S. 2011.Analisis Kelayakan Tanaman Bunga Hortensia Di Desa Gobleg Kecamatan Banjar Kabupaten Buleleng. Jurnal Penelitian Bidang Agibisnis Pertanian.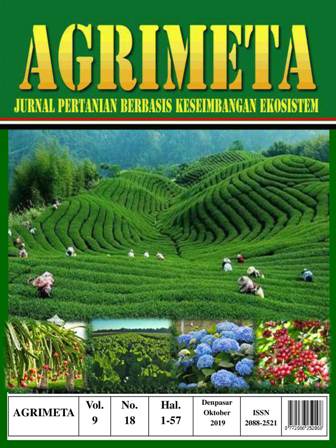 How to Cite
Dastra, I. G., Martiningsih, N. G. A. G. E., & Sukanteri, P. (2019). ANALISIS PENDAPATAN USAHA TANI BUNGA KEMBANG SERIBU (Hydrangea) STUDI KASUS DI DESA GOBLEG. AGRIMETA : Jurnal Pertanian Berbasis Keseimbangan Ekosistem, 9(18), 15-18. Retrieved from http://e-journal.unmas.ac.id/index.php/agrimeta/article/view/635