ANALISIS PEMASARAN KOPI ARABIKA DI DESA BELANTIH KECAMATAN KINTAMANI KABUPATEN BANGLI
Egristofer Evander Tuar

Program Studi Agribisnis, Fakultas Pertanian, Universitas Mahasaraswati Denpasar

I Made Tamba

Program Studi Agribisnis, Fakultas Pertanian, Universitas Mahasaraswati Denpasar

Putu Fajar Kartika Lestari

Program Studi Agribisnis, Fakultas Pertanian, Universitas Mahasaraswati Denpasar
Keywords:
Arabic Coffee, Marketing and Defective
Abstract
Indonesia is a country that has an advantage in plantation commodity trading. One such commodity is arabica coffee. This study aims to identify marketing channels and the magnitude of Arabica coffee marketing margins. The basic method used is the descriptive method. Determination of the location of the study was chosen deliberately. Sampling of farmers was selected by means of Slovin. The time and location of the study are in Belantih Village, Kintamani District, Bangli Regency, this research took place from 15 May to 20 July 2019. The population in this study amounted to 118 and sampled 55. Based on the results of the study, there was one marketing channel of Arabica coffee in the study site, namely: farmers - collectors - large traders while the marketing margin in the marketing channel is Rp. 28,000 per kilogram.
Downloads
Download data is not yet available.
References
Assauri, Sofjan. 2004. Manajemen Pemasaran. Jakarta: Rajawali Press
Anggraeni, A. Sugiarti, A. M, & Christia, M. 2010. Gambaran self-esteem pada pelaku residivisme: studi pada residivis lembaga pemasyarakatan klas 1 cipinang. Indigenous. Jurnal Ilmiah Berkala Psikologi. Vol. 12, No. 2 hal 115-125
Gregory, Alexandra; and Allen M. Featherstone. 2008. Nonparametric efficiency analysis for coffee farms in Puerto Rico, Selected paper prepared for presentation at the Southern Agricultural Economics Association Annual Meeting, Dallas
Sugiyono. (2014). Metode Penelitian Pendidikan Pendekatan Kuantitatif, Kualitatif, dan R&D. Bandung: Alfabeta
Soekartawi. (2009). Agribisnis. Teori dan Aplikasinya. Rajawali Pers Universitas Brawijaya. Jakarta.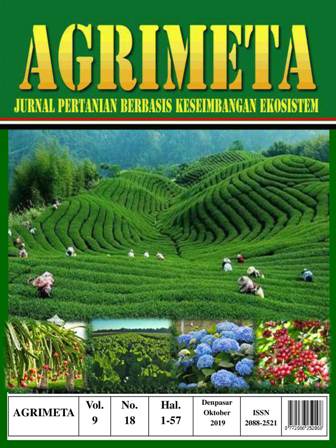 How to Cite
Tuar, E. E., Tamba, I. M., & Lestari, P. F. K. (2019). ANALISIS PEMASARAN KOPI ARABIKA DI DESA BELANTIH KECAMATAN KINTAMANI KABUPATEN BANGLI. AGRIMETA : Jurnal Pertanian Berbasis Keseimbangan Ekosistem, 9(18), 10-14. Retrieved from http://e-journal.unmas.ac.id/index.php/agrimeta/article/view/634