ANALISIS LINGKUNGAN INTERNAL - EKSTERNAL PADA PASAR RAKYAT KERTHA, DESA KESIMAN KERTALANGU
Ida Ayu Made Dwi Susanti

Program Studi Agribisnis, Fakultas Pertanian dan Bisnis, Universitas Mahasaraswati Denpasar

I Made Budiasa

Program Studi Agribisnis, Fakultas Pertanian dan Bisnis, Universitas Mahasaraswati Denpasar

Cokorda Javandira

Program Studi Agroteknologi, Fakultas Pertanian dan Bisnis, Universitas Mahasaraswati Denpasar
Keywords:
Kertha Public Market, Internal-External Factors
Abstract
Globalization shows us that many of the changes that occur in a variety of ways, including a market. This role is an important consequence of the changing patterns of consumption and culture in everyday at the world comunity, including Indonesia. The results showed that the main strengths factor in the internal accessibility and the main weaknesses are the quality of human resources (merchants). External factors that are major are opportunities tourist arrivals and the main factors that threaten the stability of product prices in the modern market
Downloads
Download data is not yet available.
References
Antara, M. 2009. Pertanian Bangkit atau Bangkrut? . Denpasar : Arti Foundation
Firmanzah dan R.E. Halim. 2012. Strategi Revitalisasi Pasar Rakyat. In : Basri, M.C., editor. Rumah Ekonomi Rumah Budaya. Jakarta : PT Gramedia Pustaka Utama.
Hastuti, E.Y. 2008. Pengaruh Penerapan Sistem agribisnis Terhadap Peningkatan Pendapatan Petani Sayuran di Kabupaten Boyolali (tesis). Semarang : Universitas Diponegoro (Tidak Dipublikasikan)
Kholis, N, A. Ratnawati, dan S. Yuwalliatin. 2011. "Pengembangan Pasar Rakyat Berbasis Perilaku Konsumen". Dinamika Sosial Ekonomi Volume 7 Nomor 1.
Pearce, J.A. dan R.B. Robinson. 2009. Manajemen Strategis Formulasi, Implementasi dan Pengendalian (Buku 1). Salemba Empat. Jakarta.
Rangkuti, F. 2002. Analisis SWOT Teknik Membedah Kasus Bisnis. Jakarta : PT. Gramedia Pustaka Utama.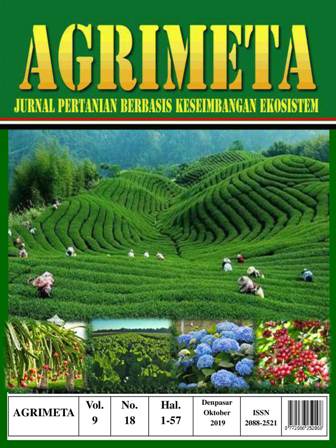 How to Cite
Susanti, I. A. M. D., Budiasa, I. M., & Javandira, C. (2019). ANALISIS LINGKUNGAN INTERNAL - EKSTERNAL PADA PASAR RAKYAT KERTHA, DESA KESIMAN KERTALANGU. AGRIMETA : Jurnal Pertanian Berbasis Keseimbangan Ekosistem, 9(18), 6-9. Retrieved from http://e-journal.unmas.ac.id/index.php/agrimeta/article/view/633