ANALISIS KEPUASAN PETANI TERHADAP BIJI HIBRIDA BENIH HIBRIDA F1 (ZEA MAYS VAR SACCHARATA STURT)
Eduardus Hadus

Prodi Agribisnis, Fakultas Pertanian, Universitas Mahasaraswati Denpasar

I Ketut Arnawa

Prodi Agribisnis, Fakultas Pertanian, Universitas Mahasaraswati Denpasar

I Made Tamba

Prodi Agribisnis, Fakultas Pertanian, Universitas Mahasaraswati Denpasar
Keywords:
Satisfaction of farmers, corn seed, Ketan Hybrids F1
Abstract
Indonesia is a vast country and most of its inhabitants work as farmers because it is supported by adequate land area and is used to cultivate food crops and horticulture. In addition to the consumption of society, food crops are also very important role in improving the economy of the community. The first step taken by the farmers to obtain the maximum output is that the farmers must conduct seed identification before the farmer planting process firstly selects the seeds and physical selection of seeds and also the farmer must be observant in sorting the seed varieties to avoid the seeds or damaged seeds, dormancy of seeds and free seeds from disease so as to obtain superior and high yielding seeds.
This study aims to determine the level of farmers' satisfaction in cultivating the seeds of the Hybrid Glutinous Maize F1, and to find out what the reasons for the farmers choose the seed of Hybrid Ketan F1 in Subak Buaji Kesiman Subdistrict, East Denpasar District.. This study used interview method of determining the respondents using random sampling method with the number of respondents as many as 30 people then the results tabulated and analyzed using descriptive analysis.
The results showed that farmers' satisfaction level in using hybrid seeds F1 of 68.72% included in the category of satisfaction and the reason farmers use hybrid sticky rice seed is the age of plants and the shorter harvesting process is ± 2.5 months and provide satisfaction for farmers because it reduces maintenance costs so as to increase farmers' income.
Downloads
Download data is not yet available.
References
Kolter, Philip. 2005. Manajemen Pemasaran. Jakarta PT. Indeks Kelompok Gramedia.
Kolter, Philip. 2000, Manajemen Pemasaran, Edisi Milenium, Jakarta, Prehallindo.
Priyanto, Slamet. (2010). Lingkungan belajar yang kondusif. (online). Tersedia: http: // tekim. Undip. ac id/staf/slametp/2010 Lingkungan-belajar yang kondusif/. (24 vebruari 2017).
Rangkuti. 2006. Teknik mengukur dan strategi meningkatkan kepuasan Pelanggan. Jakarta: Penerbit PT Gramedia Pustaka Utama.
Simamora B. 2000. Panduan Riset Perilaku Konsumen Jakarta; PT Gramedia Pustaka Utama.
Soekartawi, A soerjono.2011.Ilmu Usaha tani dan penelitian untuk Pengembangan Petani kecil.Penerbit UI Press.
Sugiyono, 2006 , Memahami penelitian kualitatif, Bandung : Alfabeta.
Sunarto.2006 pengantar manajemen.Cet. 1.Yokyakarta ; Ust Press.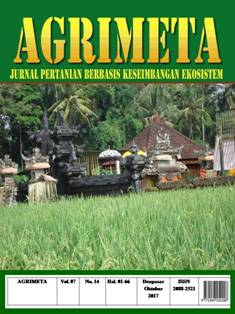 How to Cite
Hadus, E., Arnawa, I. K., & Tamba, I. M. (2017). ANALISIS KEPUASAN PETANI TERHADAP BIJI HIBRIDA BENIH HIBRIDA F1 (ZEA MAYS VAR SACCHARATA STURT). Agrimeta: Jurnal Pertanian Berbasis Keseimbangan Ekosistem, 7(14), 8-14. Retrieved from http://e-journal.unmas.ac.id/index.php/agrimeta/article/view/52