SOSIALISASI HIDROPONIK SEBAGAI BASIS PENINGKATAN PEREKONOMIAN MASYARAKAT MERUPAKAN PENDONGKRAK NILAI TAMBAH PENDAPATAN KELUARGA
Putu Eka Pasmidi Ariati

Program Studi Agroteknologi Fakultas Pertanian Universitas Mahasaraswati Denpasar

I Dewa Nyoman Raka

Program Studi Agroteknologi Fakultas Pertanian Universitas Mahasaraswati Denpasar
Keywords:
Hydroponics, Family, Land Use, Science and Technology Improvement
Abstract
Hydroponics is the cultivation of plants by only utilizing water without using soil. The priority is to fulfill nutritional needs for plants. The water needed in hydroponic planting is certainly less than the water requirement in cultivating plants with soil. With the current condition of the area of ​​agricultural land which is decreasing along with the increase in residential land and land conversion that is increasingly unable to be controlled. If left unchecked, of course, it will be very worrying about the supply of food that can be obtained from agriculture. To avoid shortages of food, new techniques are needed in the agriculture. For example, planting techniques that can be done without using soil media, namely by hydroponic techniques. Although planting is done in water, but hydroponic techniques require little water. So that hydroponic planting is very suitable to try in areas that have minimal water supply. In order to increase agricultural production, the government strongly supports efforts to develop agricultural technology and increase science and technology. The target of this hydroponic planting can be started from the household. In general, housewives who do not work have a lot of free time, so they can develop hydroponic vegetables in their yard. The benefits that can be obtained from planting hydroponic are making beautiful gardens and the results of hydroponic planting will provide nutritional intake for the family. A better benefit is being able to provide economic benefits to support the family economy.
Downloads
Download data is not yet available.
References
Dwiratna, N.P. S., Widyasanti, A., dan Rahmah, D.M. Pemanfaatan Lahan Pekarangan Dengan Menerapkan Konsep Kwasan Rumah Pangan Lestari. Dharmakarya: Jurnal Aplikasi Ipteks untuk Masyarakat. Vol. 5, No. 1, Mei 2016: 19–22
Lingga, P. 2002. Hidroponik: Bercocok Tanam Tanpa Tanah. Edisi Revisi. Penebar Swadaya. Jakarta.
Nurwahyuni, Endah. 2012. Optimalisasi Pekarangan Melalui Budidaya Secara Hidroponik. UNDIP PRESS. Prosiding Seminar Nasional Optimalisasi Pekarangan, Semarang 6 November 2012
Samanhudi dan Dwi Harjoko. 2015. Pengaturan Komposisi Nutrisi dan Media Dalam Budidaya Tanaman Tomat Dengan Sistem Hidroponik. Jurusan Agronomi Fakultas Pertanian UNS.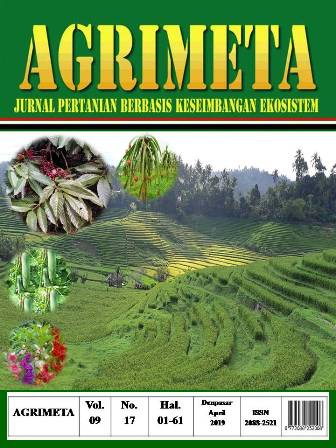 How to Cite
Ariati, P. E. P., & Raka, I. D. N. (2019). SOSIALISASI HIDROPONIK SEBAGAI BASIS PENINGKATAN PEREKONOMIAN MASYARAKAT MERUPAKAN PENDONGKRAK NILAI TAMBAH PENDAPATAN KELUARGA. Agrimeta: Jurnal Pertanian Berbasis Keseimbangan Ekosistem, 9(17), 53-57. Retrieved from http://e-journal.unmas.ac.id/index.php/agrimeta/article/view/427