ANALISIS FAKTOR PRODUKSI USAHATANI SEMANGKA DI KOTA DENPASAR(STUDI KASUS DI SUBAK INTARAN BARAT, DESA SANUR)
Karolus Lionkadya Malur

Program Studi Agribisnis, Fakultas Pertanian, Universitas Mahasaraswati Denpasar

Cening Kardi

Program Studi Agribisnis, Fakultas Pertanian, Universitas Mahasaraswati Denpasar

Luh Putu Kirana Pratiwi

Program Studi Agribisnis, Fakultas Pertanian, Universitas Mahasaraswati Denpasar
Keywords:
factors of production, financing, profit
Abstract
The study aimed to analyze the financing and benefits of analyzing production factors for watermelon production in Subak Intaran Barat, Sanur Village, Denpasar City. The study was conducted by purposive sampling in the location of Subak Intaran Barat, South Denpasar. Determination of samples using simplerandom sampling as many as 31 people. The analytical method areused income analysis and multiple linear regression with cobbdouglass measurements. Based on the results of the analysis, the average costs incurred for an average of 101.6 total (TC) of Rp.14,795,000, and the farming benefits obtained by farmers on watermelon farming were  Rp.19,278,200 and R / C Average 2.30 so it's feasible for farming. For the average area of ​​100 are, the costs incurred Rp.14,562,007, and the profit is Rp.18,937,593. The results on  factors of production decreases back to scale. The magnitude of the total coefficient value towards the regression from input is 0.921. This explains that the value of return to scale on watermelon farming in Subak Intaran Barat achieves decresing return to scale where every use is twice of organic fertilizer, insecticide, urea, and labor, then production will decrease less than twice. Production factors that can significantly increase watermelon production are seeds, functionides and ponska. This happens because the seeds used by farmers are superior seeds, besides the use of functionides is very effective in killing pests that can interfere with watermelon growth, while ponska helps in vegetative formation in watermelon because it is given at the beginning of plant growth.
Downloads
Download data is not yet available.
References
Badan Pusat Statistik, 2016. Sensus Pertanian. BPS. Jakarta. http://st2016.bps.go.id. Diakses pada 30 Oktober 2016.
Hariyati, Yuli. 2007. Ekonomi Mikro (Pendekatan Matematis dan Grafis). Fakultas Pertanian Universitas Jember. Jember
Kalie, M.B. 2003. Bertanam Semangka. Penebar Swadaya. Jakarta
Prajnanta, Final. 2004. Melon. Penebar Swadaya. Jakarta
Salvatore, Dominick. 2005. Ekonomi Manajerial dalam Perekonomian Global..Salemba Empat. Jakarta.
Samadi, B. 1996. Semangka Tanpa Biji. Kanisius. Yogyakarta
Umar, Husein. 2003.Metodologi Penelitian Untuk Skripsi dan Tesis Bisnis. PT. Gramedia Pustaka. Jakarta.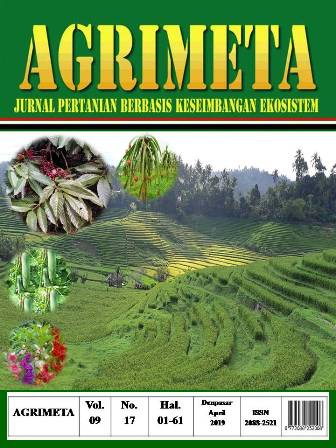 How to Cite
Malur, K. L., Kardi, C., & Pratiwi, L. P. K. (2019). ANALISIS FAKTOR PRODUKSI USAHATANI SEMANGKA DI KOTA DENPASAR(STUDI KASUS DI SUBAK INTARAN BARAT, DESA SANUR). AGRIMETA : Jurnal Pertanian Berbasis Keseimbangan Ekosistem, 9(17), 8-13. Retrieved from http://e-journal.unmas.ac.id/index.php/agrimeta/article/view/418