EKSPLORASI BAHAN ALAMI SEBAGAI ALTERNATIF PENGGANTI BAHAN TAMBAHAN PANGAN (BTP) SINTETIK
Swastike W

Jurusan Peternakan, Fakultas Pertanian, Universitas Sebelas Maret, Surakarta

Suryanto E

Fakultas Peternakan, Universitas Gadjah Mada, Yogyakarta

Rusman Rusman

Fakultas Peternakan, Universitas Gadjah Mada, Yogyakarta

Jamhari Jamhari

Fakultas Peternakan, Universitas Gadjah Mada, Yogyakarta

Jumeri Jumeri

Fakultas Pertanian, Universitas Gadjah Mada, Yogyakarta
Keywords:
Flavonoid, Antioxidant, Natural Color
Abstract
This study aims to explore natural ingredients so that they can be used as alternatives to synthetic additives. The ingredients consist of red dragon fruit, red dragon fruit peel, carrots, beet root and purple sweet potatoes. The results showed that the best sources that have the potential as natural BTP (flavonoid content, antioxidant activity, vitamin C, and the natural color) were beet root carrots and purple sweet potatoes.
Downloads
Download data is not yet available.
References
Almatsier, S. 2009. Prinsip Dasar Ilmu Gizi. Jakarta: Gramedia Pustaka Utama
Azizahwati, M. Kurniasi dan H. Hidayati. 2007. Analisis zat warna sintetik terlarang untuk mekanan yang beredar di pasaran. Majalah Ilmu Kefarmasian Volume IV No. 1 April : 7-25. Jakarta.
Bora, D.J., A.K. Gupta dan F.A. Khan. 2015. Comparing the Performance of L*A*B* and HSV Color Space with Respect to Color Image Segmentation. International Journal Of Emerging Technology and Advanced Enggineering 5(2) : 192-203.
BPOM RI, 2013. Peraturan Kepala Badan Pengawas Obat dan Makanan Republik Indonesia Nomor 8 Tahun 2013 tentang Batasan Maksimum Penggunaan Bahan Tambahan Pangan Pengatur Keasaman. Jakarta.
Cahyadi, W. 2008. Analisis dan Aspek Kesehatan Bahan Tambahan Pangan edisi kedua. Jakarta:Bumi Aksara.
Delgado-Vargas, F., Jimenez, A.R., Paredes-Lopez, O., 2000. Natural pigments: carotenoids, anthocyanins, and betalains – characteristics, biosynthesis, processing, and stability. Critical Reviews in Food Science and Nutrition 40 (3), 173–289.
DeMAn, J.M. 1989. Principles of Foods Chemestry. Van Nostrand Reinhold, A Divison of Wadsworth, Inc.
Estiasih, T.,Widya Dwi Rukmi Putri., dan Endrika Widyastuti. 2015. Komponen Minor dan Bahan Tambahan Pangan. Bumi Aksara. Jakarta.
Hudges, K.K., dan Adrian. 2007. Programmer's Reference. Willey Publishing. Inc, Indiana.
Kendall C.W.C., Esfahani A., dan Jenkins, D.J.A. 2010. The Link between Dietary Fiber and Human Health. Food Hydrocolloid, 24 (1) : 42-48.
Kumar Y., Yadav D.N., Ahmad. T., dan Narsaiah K. 2015. Recent trends in use of the natural antioxidants for meat and meat product. Comprehensive Reviews in Food Science and Food Safety. 14: 796-812
Murakami, P.F., M.R. Turner, A.K. van den Berg, P.G.Schaberg. 2005. An Instructional Guide for Leaf Color Analysis using Digital Imaging Software. General technical Report NE-327. United States Department of Agriculture. Northeastern Research Station.
Seelye, M.,G. S. Gupta, D. Bailey. 2011. Low Cost Colour Sensors for Monitoring Plant Growth in a Laboratory. School of Engineering and Advance Technology (SEAT), Massey University, Palmerston North, New Zealand.
Sunarti, 2017. Serat Pengan dalam Menangani Sindrom Metabolik. Gadjah Mada University Press. Yogyakarta.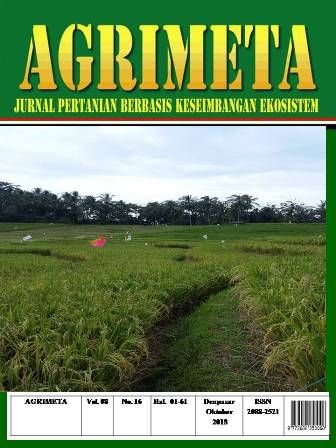 How to Cite
W, S., E, S., Rusman, R., Jamhari, J., & Jumeri, J. (2018). EKSPLORASI BAHAN ALAMI SEBAGAI ALTERNATIF PENGGANTI BAHAN TAMBAHAN PANGAN (BTP) SINTETIK. AGRIMETA : Jurnal Pertanian Berbasis Keseimbangan Ekosistem, 8(16), 12-18. Retrieved from http://e-journal.unmas.ac.id/index.php/agrimeta/article/view/408