KEANEKARAGAMAN SERANGGA PADA TANAMAN KAKAO (THEOBROMA CACAO L) DI KECAMATAN MARGA KABUPATEN TABANAN
N M Anugrah Mahima

Program Studi Agribisnis, Fakultas Pertanian, Universitas Mahasaraswati

Ni Gst. Ag. Gde Eka Martiningsih

Program Studi Agribisnis, Fakultas Pertanian, Universitas Mahasaraswati

Farida Hanum

Program Studi Agribisnis, Fakultas Pertanian, Universitas Mahasaraswati
Keywords:
diversity, insect, plantation, cocoa
Abstract
This study entitled the diversity of insects in cocoa plants (Theobroma cacao L) in Marga District, Tabanan Regency. The implementation began in November 2017. This study aims to determine the types of insects found in cocoa plants. By carrying out observations of land for data collection, starting from taking pictures and counting the number of insects in cocoa plantations. The results show that the one that dominates the type of insect is the small red ant insect Oechophylla smaragdina with 68 tails. Based on the results of the study it can be concluded that the types of insects found in cocoa plantations in the Marga district of Tabanan Regency consist of 8 types of insects namely black ants (Dolichoderus thoracicus smith), large black ants (minimum Monomorium), small red ants (Oechophylla smaragdina), crickets (Gryllidae), Orong-orong (Gryllotalpidae), Beetles (Coleoptera), Spiders (Araneae), Snails (Achatina fulica). It can be suggested that we know the role of each type of insect.
Downloads
Download data is not yet available.
References
Ade Rosmana, Citra Waniada, Mohammad Junaid, dan Ahdin Gassa 2010. Peranan Semut Iridomirmex cordatus (Hyminoptera: Formicidae) dalam Menularkan Patogen Buasuk Buah Phytophthora Palmivora. Jurnal Pelita Perkebunan 2010, 26(3), 169-176.
Afniaty Intania, 2006. Substitusi Tepung Kunyit (Curcuma domestica Val). Dalam Pakan Jangkrik Kalung ( Gryllus bimaculatus ) Pada Periode Bertelur, Skripsi, Bogor: IPB, H.6
Charles A. Triplehorn, Norman F. Johnson 1992. Borror And Delong's Introduction to The Study Of Insects. 7th Edition.
Dewi, S.P, 2010. Perbedaan Efek Pemberian Lendir Bekicot (Achatina fulica) dan gel bioplacenton terhadap penyembuhan luka bersih pada tikus putih. Skripsi. Universitas sebelas Maret, Surakarta.
Ikbal, Nugroho Susetya Putra, & Edhi Martono 2014. Keragaman Serangga pada Ekosistem tanaman kakao di desa banjoroya Kecamatan Kalibawang Yogyakarta. Jurnal perlindungan Tanaman Indonesia, vol. 18. No. 2.2014:79-88
Raharjo. 1999. Tanaman kakao dan Budidaya, dan aspek ekonominya. Yogyakarta: kanisius
Riyanti, p. 2009. Keragaman, efektivitas dan perilaku Kunjungan Serangga Penyerbuk pada Tanaman Jarak Pagar (Jatropha curcas L.: Euphorbiaceae). Tesis. Institute Pertanian Bogor. 88 p.
Setiawati, W, Jayanti. H, Hudayya. A, dan Hasyim.A 2015. Pengaruh Insektisida Karbofuran Terhadap Kerusakan dan Kehilangan Hasil Kentang Akibat Serangan Gryllotalpa hirsutaBurmeister (Ortoptera :Gryllotalpa) serta dampaknya terhadap keanekaragaman Artropoda Tanah. Balai penelitian Tanaman Sayuran, Jln. Tangkuban perahu No. 517, Lembang, Bandung Barat 40391. J.Hort. 25(1): 54-62, 2015.
Suana, I. W, 2005. Bioekologi Laba-labapada Bentang Alam Pertanian di Cianjur: kasus Daerah Aliran Sungai (DAS) Cianjur, Sub-sub DAS Citarum, Kabupaten Cianjur, Jawa Barat, (Disertasi). Sekolah Pascasarjana Institut Petanian Bogor, Bogor.
Suhendi. 2007. Budidaya Kakao. PT. Agro Media Pustaka: Jakarta.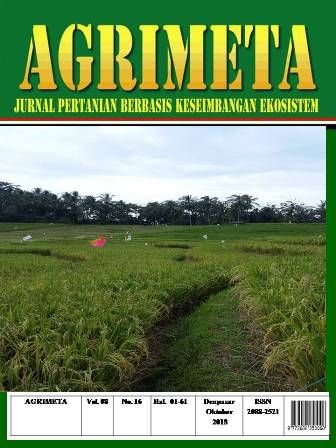 How to Cite
Mahima, N. M. A., Martiningsih, N. G. A. G. E., & Hanum, F. (2018). KEANEKARAGAMAN SERANGGA PADA TANAMAN KAKAO (THEOBROMA CACAO L) DI KECAMATAN MARGA KABUPATEN TABANAN. AGRIMETA : Jurnal Pertanian Berbasis Keseimbangan Ekosistem, 8(16), 1-5. Retrieved from http://e-journal.unmas.ac.id/index.php/agrimeta/article/view/406