Analisis Saluran Pemasaran Pisang di Tampaksiring, Gianyar
Ni Made Pipit Arsiani

Program Studi Agribisnis, Fakultas Pertanian dan Bisnis, Universitas Mahasaraswati Denpasar

I Made Budiasa

Program Studi Agribisnis, Fakultas Pertanian dan Bisnis, Universitas Mahasaraswati Denpasar

Cokorda Javandira

Program Studi Agroteknologi, Fakultas Pertanian dan Bisnis, Universitas Mahasaraswati Denpasar
Keywords:
Marketing chanel, Marketing cost, Marketing margin, Famer share, Marketing efficiency
Abstract
The purpose of this study was to analyze marketing costs, marketing margins, farmer share, and banana marketing channels. This research was conducted in Pejeng Kawan village, Tampaksiring District, Gianyar Regency. This research was conducted from April to June 2020. Respondents in the study were 31 farmers and 22 people in marketing institutions consisting of 3 wholesalers, 5 wholesalers, 5 retailers, and 9 consumers. Based on the results of research on the analysis of marketing costs, marketing margins and marketing channels of bananas, the following conclusions are obtained: 1. Level I marketing channels of products produced by producers are directly sold to direct consumers, Level II marketing channels of products from producers are sold to collectors , retailers, and subsequently sold to consumers, and level III marketing channels for products from producers to be sold to wholesalers, wholesalers, retailers, and then sold to consumers. 2. Marketing margin for bananas on channel level I: Rp. 2,000, channel level II: Rp. 4,500, at channel level III: Rp. 11,000. 3. Farmer share for channel I is 89%, channel II is 77% while channel III is 56%. Marketing efficiency for marketing channel I was 0%, marketing channel II efficiency was 12,27% and marketing channel III efficiency was 30,66%.
Downloads
Download data is not yet available.
References
Badan Pusat Statistik Provinsi Bali, 2020. Produksi Buah Pisang Provinsi Bali Menurut Kabupaten/Kota di Bali. https://bali.bps.go.id/dynamictable/2017/05/18/129/produksi-ton-buah-pisang-dirinci-menurut-kabupaten-kota-di-bali 2011-2015.html. Diakses 11-02-2020.
Soekartawi. 2001. Agribisnis Teori dan Aplikasinya. Jakarta : PT Raja Grafindo Persada,
Sudiyono, 2002, Pemasaran Pertanian. Malang : UMM Press,
Sugiyono. 2010. Metode Penelitian Pendidikan Pendekatan Kuanti-tatif, Kualitatif, dan R&D. Bandung: Alfabeta
Tomek dan Robinson, 2001. Agri-cultural Product Prices. London : Cornell University Press.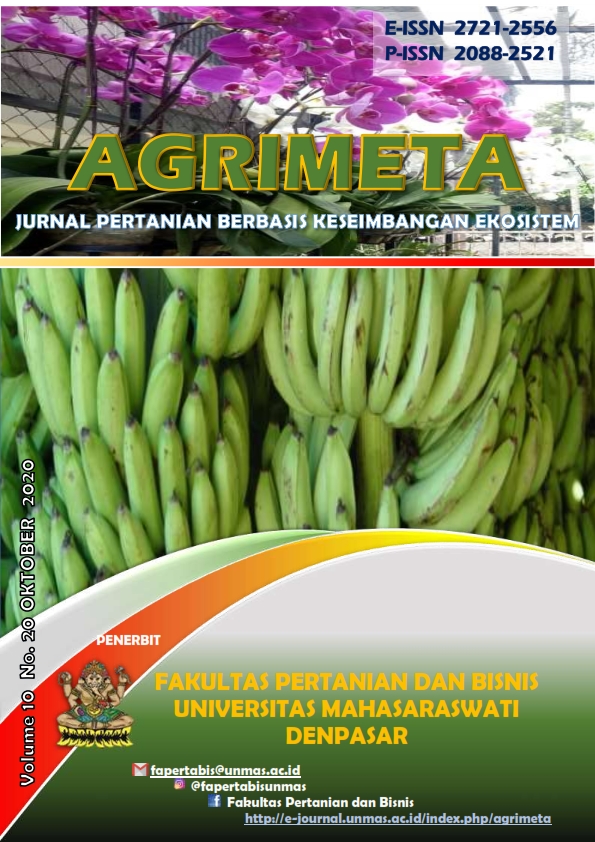 How to Cite
Ni Made Pipit Arsiani, I Made Budiasa, & Cokorda Javandira. (2021). Analisis Saluran Pemasaran Pisang di Tampaksiring, Gianyar. AGRIMETA : Jurnal Pertanian Berbasis Keseimbangan Ekosistem, 10(20), 1-6. Retrieved from http://e-journal.unmas.ac.id/index.php/agrimeta/article/view/1780