PENGARUH PROFITABILITAS TERHADAP NILAI PERUSAHAAN DENGAN CORPORATE SOSIAL RESPONSIBILITY SEBAGAI VARIABEL MODERASI
Keywords:
profitability, corporate social responsibility, corporate value
Abstract
Basically to measure a company's value can be through several aspects, one of which is by using the stock market price. The market price of a company's stock reflects investors' overall assessment of each equity owned by a company. If a company cannot manage its finances properly, it can result in financial difficulties within the company. Therefore, an analysis of the financial condition of a company is very important to do. The purpose of this study was to identify and analyze the effect of Return on Equity (ROE) on Company Value with Corporate Social Responsibility as a moderating variable in mining sector companies listed on the Indonesia Stock Exchange for the 2019-2021 period. This research is a research with the type of data used is quantitative data obtained from annual reports of companies that have been audited on the Indonesia Stock Exchange during the study period. The total population of these companies is 38 companies. Based on the purposive sampling method, the number of observations that met the sample criteria was 33 observations made by 11 companies. The analysis technique used is multiple linear regression analysis and Moderating Regression Analysis (MRA) with the SPSS application. The results of this study indicate that the variable profitability has a positive and significant influence on firm value, and disclosure of Corporate Social Responsibility (CSR) is a moderating variable that strengthens the relationship between ROE and firm value.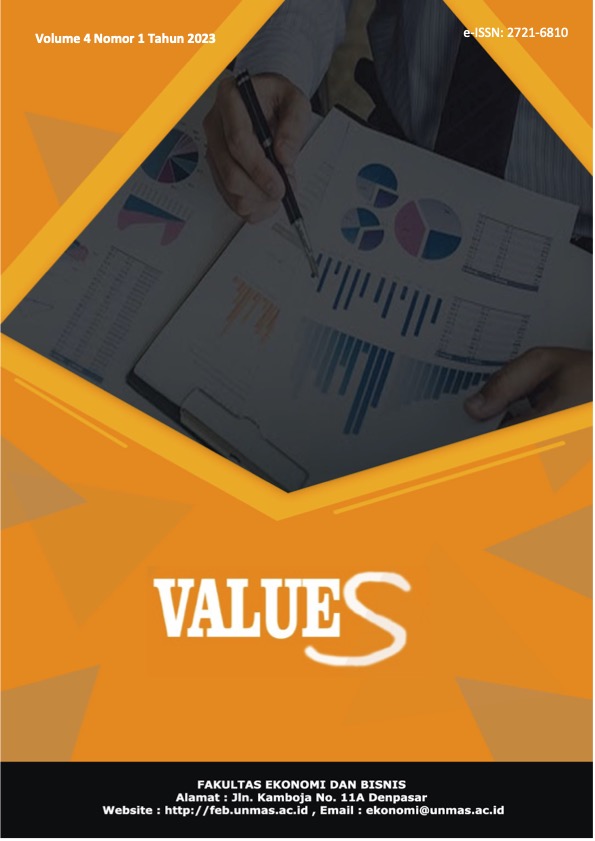 Downloads