PENGARUH TINGKAT SUKU BUNGA DAN INFLASI TERHADAP RETURN SAHAM PADA PERUSAHAAN AUTOMOTIVE AND COMPONENT YANG TERDAFTAR DI BURSA EFEK INDONESIA
Keywords:
Interest Rate, Inflation, Stock Return
Abstract
Stock Return is the value obtained as a result of investment activities. Stock Returns are the main objectives of investors to get results from investments made by investors. The purpose of this study is to determine the effect of interest rates and inflation on stock returns. This research was conducted on Automotive and Component companies listed on the Indonesia Stock Exchange for the period of 2014-2017 where the total population taken was 13 companies. The number of samples taken was 12 companies. The data analysis technique used is multiple linear regression.  The results of this study indicate that partially the interest rate has a negative and significant effect on stock returns, while inflation has a positive and not significant effect on stock returns. Simultaneously, interest rates and inflation do not affect stock returns. Which means that in this study the interest rate has a dominant effect on stock returns.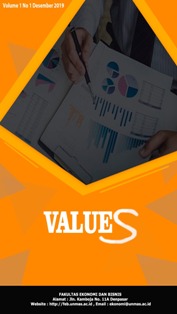 Downloads