PENGARUH PROFITABILITAS, ARUS KAS DAN PERTUMBUHAN PERUSAHAAN TERHADAP KONDISI FINANCIAL DISTRESS PADA PERUSAHAAN MANUFAKTUR YANG TERDAFTAR DI BURSA EFEK INDONESIA
Keywords:
profitability, cash, company growth, financial distress
Abstract
Financial distress is the stage of declining financial conditions experienced by the company, which occurred before the occurrence of bankruptcy or liquidation (Platt, 2002). This condition is characterized by delays in delivery, declining product quality and delays in payment of bills from banks.
Financial distress can be divided into two types, namely economic failure and financial failure. Economic failure can occur due to the company's failure to cover the company's operating costs. While financial failure can be caused by two things. The first cause is technical insolvency, a situation where the company fails to pay its maturing obligations but the assets owned are greater than the total debt owned. The second cause is bankruptcy, a situation where the company is no longer able to fulfill its obligations to debtors because the company experiences a shortage or insufficient funds to continue its business so that the company's economic goals cannot be achieved.
This study aims to analyze and determine the effect of profitability, cash, and company growth on financial distress in manufacturing companies listed on the Indonesia Stock Exchange. The research population is manufacturing companies listed on the Indonesia Stock Exchange in 2015-2018. The sample in this study were 123 manufacturing companies which were determined based on the purposive sampling method. The analysis technique used is the classical assumption test and multiple linear regression analysis.
Based on the results of the study, it shows that profitability, cash and company growth have a negative effect on financial distress. Further research is expected to add other variables that theoretically have an influence on financial distress and further research is expected to increase the observation period, and the authors also suggest, for further research the object of research is not only carried out in the manufacturing sector listed on the IDX, but also in other sectors. other sectors.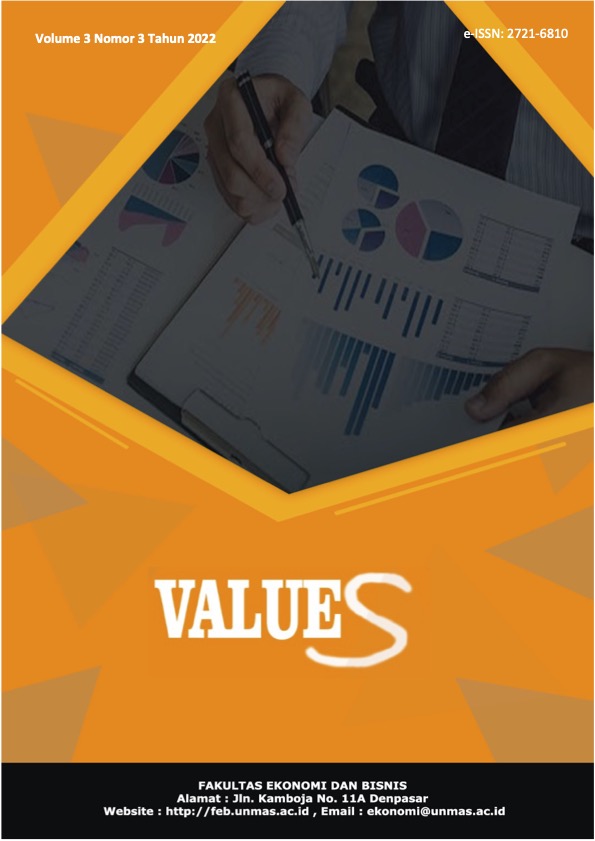 Downloads