PENERAPAN IPTEK DI DESA WAB NGUFAR UNTUK MANAJEMEN BUDIDAYA MAKROALGA HIJAU Caulerpa racemosa dan C.lentillifera "LAT'
Keywords:
Management, Cultivation, Macroalgae
Abstract
Real conditions in the field The production of seaweed (C, racemosa and C. lentillifera) in Tual, Southeast Maluku Regency has tended to decline, due to the high intensity of extraction in nature without any attempt to control the cultivation. seaweed cultivation (C.racemosa and C.lentilifera) with a modified basic method so that it is hoped that this modification can increase the growth and density of seaweed in nature. Besides that, it can change the mindset of the people who have been taken away without thinking about cultivation. Even though the seaweed cultivation is actually a form of control and an effort to maintain the seaweed stock in nature by paying attention to the quality of the content of the seaweed. The aim of the application of science and technology for the community is to increase Caulerpa stock in nature by applying cultivation methods that can be done by utilizing local materials so that it can increase income for the people of Ohoi Wab Ngufar.
Downloads
Download data is not yet available.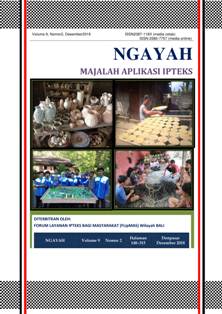 Downloads
How to Cite
Dangeubun, J. L., & Kadmaer, E. (2019). PENERAPAN IPTEK DI DESA WAB NGUFAR UNTUK MANAJEMEN BUDIDAYA MAKROALGA HIJAU Caulerpa racemosa dan C.lentillifera "LAT'. Ngayah: Majalah Aplikasi IPTEKS, 9(2). Retrieved from https://e-journal.unmas.ac.id/index.php/ngayah/article/view/200