STRUKTUR KEPEMILIKAN, KINERJA KEUANGAN DAN PENGUNGKAPAN CORPORATE SOCIAL RESPONSIBILITY
Keywords:
managerial ownership, institutional ownership, leverage, profitability, corporate social responsibility
Abstract
CSR is a company or business commitment to contribute into sustainable economic development which focus and bring attention to the economic, social and enviromental aspect. CSR disclosure will affect the investor decision making. Thus, it is essential to find out factors that will affect CSR disclosure.
The aim of this study was to determine the influence of structural ownership consist of managerial and institutional ownership, the effect of financial ratios consist of leverage and profitability to CSR disclosures. The sample of this research comes from 27 manufacturing companies listed on Indonesia Stock Exchange period 2014-2016. Determination of the sample in this study is using purposive sampling. The data analysis used multiple linear regression analysis. The results of this study indicated that the variable of institutional ownership, managerial ownership, leverage and profitability have no effect on CSR disclosures.
Downloads
Download data is not yet available.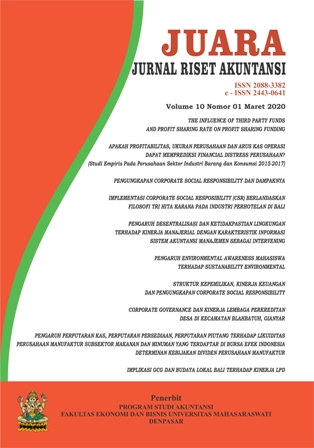 Downloads