PENGARUH ENVIRONMENTAL AWARENESS MAHASISWA TERHADAP SUSTANABILITY ENVIRONMENTAL
Keywords:
Environmental Attitude, Environmental Accounting, Knowledge, Environmental Behavior
Abstract
This study aims to determine student awareness of the environment in order to contribute to maintaining environmental sustainability. This research observes whether environmental accounting knowledge is used as a consideration in making business decisions that are designed for advanced entrepreneurship. Planned Behavior Theory is used to understand, explain and predict behavior designed as an intervention strategy to maintain or change student behavior in an effort to maintain environmental sustainability The research sample was 44 accounting students who participated in Advanced Entrepreneurship. Regression analysis is used to hypothesis testing. Student awareness as measured through attitudes and knowledge shows different results. Environmental attitude has not been proven to influence Environmental behavior. Instead environmental accounting knowledge positively influences behavior towards the environment. The results showed that the contribution of predictor variables was relatively small (36.5%). For this reason, other variables need to be developed for future research to enrich the behavioral predictor variables, such as the environmental sensitivity.
Downloads
Download data is not yet available.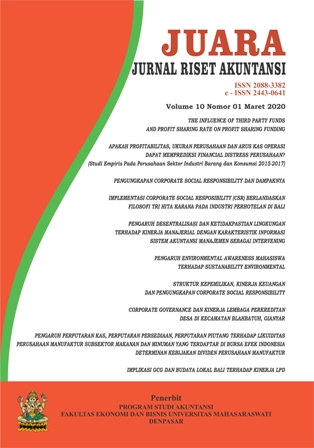 Downloads