CORPORATE SOCIAL RESPOSIBILITY TRI HITA KARANA DALAM SUSTAINIBILITAS PERUSAHAAN(FILOSOFI DAN IMPLEMENTASI)
Keywords:
Corporate Social Responsibility (CSR), Tri Hita Karana
Abstract
This study aims to determine and understand the implementation of CSR based on Tri Hita Karana which is carried out by the Inaya Putri Bali Nusa Dua Hotel. This research applies a descriptive qualitative data analysis method with case studies that can be classified in the explorative type, which is to extract data and information sourced from data collection conducted through observation, interviews, and literature studies. The results showed that the Inaya Putri Bali Nusa Dua had carried out their responsibilities towards the environment, people, and to God. This is shown from the presentation of the speakers about hotel activities that pay attention to the environment, labor, surrounding communities, and religious activities in the hotel environment, which shows the implementation of Tri Hita Karana in the daily activities of the hotel. The interview results explained that the hotel provided a special fund to carry out activities related to corporate social responsibility.
Downloads
Download data is not yet available.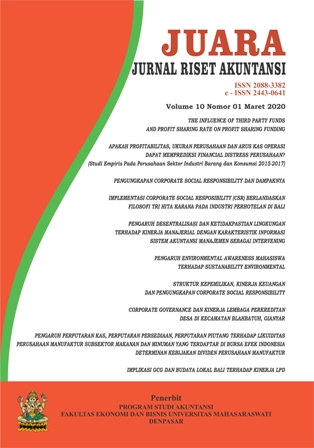 Downloads