APAKAH PROFITABILITAS, UKURAN PERUSAHAAN DAN ARUS KAS OPERASI DAPAT MEMPREDIKSI FINANCIAL DISTRESS PERUSAHAAN?
(Studi Empiris Pada Perusahaan Sektor Industri Barang dan Konsumsi 2015-2017)
Keywords:
profitability, company size, operating cash flow, financial distress
Abstract
This study aimed  to empirically examine the effect of profitability ratios, firm size and operating cash flow on the conditions of financial distress in the goods and consumption industry sector companies in Indonesia. The population in this study were all goods and consumer industry sectors listed on the Indonesia Stock Exchange in 2015-2017. The sampling technique used was purposive sampling method so that the study sample was 72 companies in the goods and consumption industry sector with 93 observations. In this study the determination of company financial distress is determined by, if companies have Interest Coverage Ratio 1.5 or below 1.5 grouped in financial distress companies. Non financial distress companies if they have an Interest Coverage Ratio of more than 1.5. The data analysis technique used is logistic regression. The results of testing the hypothesis that profitability ratios measured by ROA have an effect on financial distress, firm size measured by log natural of total assets has no effect on financial dsitress, and measured operating cash flow by comparing cash flows from operations with net sales does not affect financial distress.
Downloads
Download data is not yet available.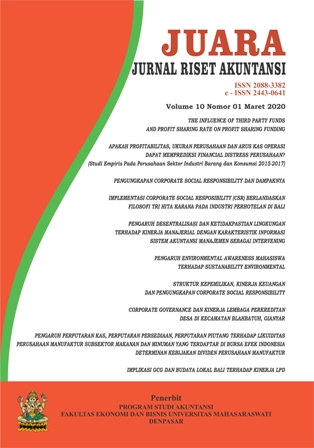 Downloads