THE INFLUENCE OF THIRD PARTY FUNDS AND PROFIT SHARING RATE ON PROFIT SHARING FUNDING
Keywords:
Third Party Funds, Profit Sharing, Profit Sharing Funding
Abstract
Sharia banking or Islamic banking is a financial institution. Activities based on Shariah principles and refers to the Qur'an and Hadith. Sharia banking not charge or pay interest to customers but in the form of profit sharing. One of the forms of financing in the Sharia banking is the financing of profit sharing which consists of mudharabah and musyarakah financing. The purpose of this research is to know the financing of profit sharing, third party fund, and the level of profit sharing in sharia commercial bank. This research to test and analyze whether there is influence of third party fund and profit sharing result to financing for both partially and simultaneously. The method used is descriptive quantitative sourced from the financial statements of sharia banks and literature study. The results showed that third party funds increased, the profit- sharing rate fluctuated, and the profit sharing financing varied. To simultaneously test the hypothesis of third party funds and the level of profit sharing effect on financing for the results. Partially, third party funds have a significant effect on profit sharing.
Downloads
Download data is not yet available.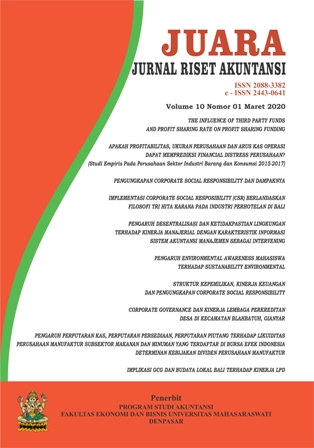 Downloads