PENGARUH CORPORATE SOCIAL RESPONSIBILITY, PROFITABILITAS, DAN STRUKTUR MODAL TERHADAP NILAI PERUSAHAAN DI BURSA EFEK INDONESIA
Keywords:
Corporate Social Responsibility, Profitability, Capital Structure, Company Value
Abstract
The value of the company is the investor's perception of the level of success of the compa­ny which is often associated with stock prices. The value of the company can provide maximum prosperity for shareholders if the company's stock price increases. The higher the stock price, the higher the prosperity of shareholders. The purpose of this study is to analyze the influence of Corporate Social Responsibility, profitability, and capital structure on the value of the company.
This research was conducted on companies in the consumer goods industry sector listed on the Indonesia Stock Exchange in 2015-2017. Samples were obtained by purposive sampling method. Based on these methods obtained as many as 22 companies as samples. Data analy­sis techniques used were descriptive statistics, classic assumption tests, multiple linear analy­sis, and goodness of fit of a model.
The results showed that Corporate Social Responsibility, profitability, and capital struc­ture had a positive effect on firm value.
Downloads
Download data is not yet available.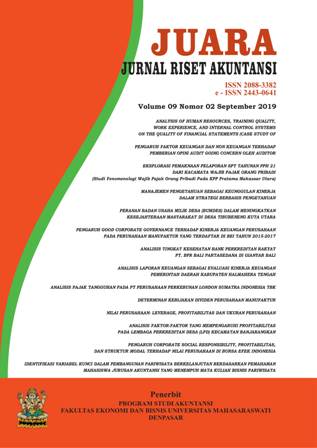 Downloads