NILAI PERUSAHAAN: LEVERAGE, PROFITABILITAS DAN UKURAN PERUSAHAAN
Keywords:
leverage, profitability, company size, firm value
Abstract
An increase in firm value is the company's main objective, by increasing the share price. High share price would make the market believe in the company's performance and its prospects in the future. This study aims to determine the significant effect of leverage, profitability, firm size on firm value. The population of study is food and beverage companies listed in Indonesia Stock Exchange over the period 2012-2015, amounted of 20 companies. Determination of the number of samples in this study using purposive sampling method. Analysis technique in the study is multiple linear regression using SPSS as data processing. Based on the analysis found that leverage have no effect on the firm value, profitability have a significant effect on firm value, and the firm size have no effect on the firm value.
Downloads
Download data is not yet available.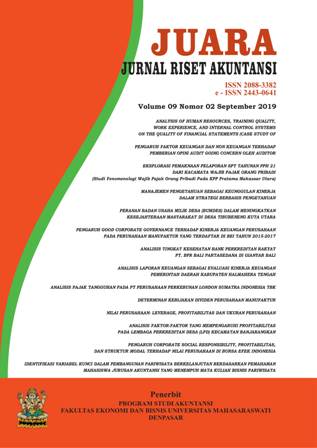 Downloads