PERANAN BADAN USAHA MILIK DESA (BUMDES) DALAM MENINGKATKAN KESEJAHTERAAN MASYARAKAT DI DESA TIBUBENENG KUTA UTARA
Keywords:
BUMDes, Welfare, PAD, Economy counting Knowledge, Interest in Entrepreneurship
Abstract
The purpose of this study was to determine, describe, and analyze the role of BUMDes Gentha Persada in order to improve welfare, as well as to find out, describe, and analyze the supporting and inhibiting factors of BUMDes Gentha Persada in order to improve the welfare of the people of Tibubeneng village. This research uses descriptive research with a qualitative approach and is limited by two research focuses, namely (1) Role of BUMDes Gentha Persada in the Framework of Improving the Welfare of the People of Tibebeneng Village (2) Supporting and Inhibiting Factors of Gentha Persada's BUMDes in the Framework of Increasing the Welfare of the People of Tibubeneng Village. The results showed that the role of BUMDes Gentha Persada in improving the welfare of the community through business units managed under BUMDes and opening up employment opportunities for the community. The supporting factors of BUMDes to improve community welfare are the potential for the development of the Tibubeneng Village in the economic sector because it is located in the North Kuta area which has good tourism de­velopment potential and supporting human resources while inhibiting factors such as BUMDes have not maximally provided BUMDes program socialization. in the community, not yet max­imized in business and economic development, the community still thinks in the scope of the banjar so that it is not yet optimal in supporting the BUMDes program, it requires the support of all elements of society both customary and official, potential human resources owned by villag­es prefer to work in other agencies.
Downloads
Download data is not yet available.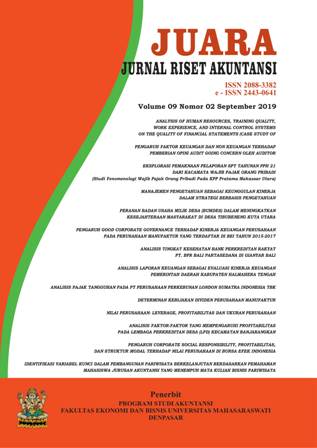 Downloads