ANALYSIS OF HUMAN RESOURCES, TRAINING QUALITY, WORK EXPERIENCE, AND INTERNAL CONTROL SYSTEMS ON THE QUALITY OF FINANCIAL STATEMENTS (CASE STUDY OF COOPERATIVES IN GIANYAR REGENCY)
Keywords:
cooperatives, human resources, quality of training, work experience, internal control systems, quality of financial statements
Abstract
The Office of Cooperatives and Small and Medium Enterprises in the Province of Bali noted, on the Island of the Gods as of February 2018 there were 4,839 units, where the largest number of cooperatives was in Gianyar Regency. Cooperatives in Gianyar Regency recently experienced many problems such as the ability of the cooperative's human resources management which is still very low, an internal control system that is not done well, and cannot produce accountability reports due to lack of training and lack of work experience. These problems cause many cooperatives that are not active or closed. This study aims to determine the effect of human resources, training quality, work experience and internal control systems on the quality of financial statements in cooperatives in Gianyar Regency. The population in this study were all cooperatives in Gianyar Regency amounting to 1,221 units, sampling in this study using purposive sampling method. This research is quantitative and data collection techniques using questionnaires. The hypothesis is tested with multiple linear regression, the results show that HR, training quality, work practices and internal control systems have a positive effect on the quality of financial statements
Downloads
Download data is not yet available.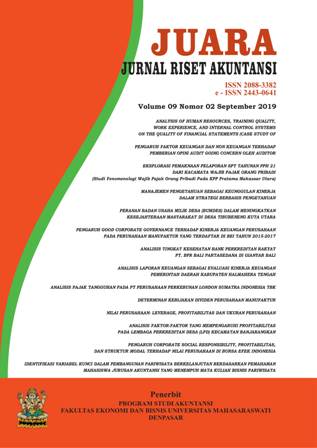 Downloads