AUDIT OPERASIONAL TERHADAP FUNGSI PENJUALAN BARANG DAGANG UNTUK MENGUKUR EFISIENSI DAN EFEKTIVITAS PADA KOPERASI UNIT DESA MAMBAL DI KABUPATEN BADUNG
Keywords:
sales operational inspection, efficiency, effectiveness, effectiveness
Abstract
Economic is growing rapidly creates business opportunities for cooperatives in an effort to manage
and expand its business operations. Cooperative operational development requires an
internal control system by cooperative management so that cooperative can generate maximum
profit, especially in the sales process. Internal control of the sales process is important because
sales are one of the elements of property in the component of profit and loss. The internal
control system in the sales function is conducted through internal audit, especially the sales
operation examination, which aims to assess the compliance with the policies or sales procedures
established by the cooperative, evaluate the level of efficiency and effectiveness so that
the cooperative can know the constraints and weaknesses encountered in sales activities. KUD
Mambal is a cooperative that has a main field in the process of selling rice transactions, while
for penjulan fertilizer only get a fee only from each transaction. This study aims to determine
the efficiency and effectiveness of the sales function of the operational audit of Mambal Village
Unit Cooperative and to know the analysis of operational audit results of the Village Unit Cooperative
Mambal. Methods of data collection is a systematic way through Library Studies (Library
Research and Field Studies (Field Research), namely by direct observation (observation), and
interviews directly (interview). Data analysis techniques carried out were preliminary surveys,
planned audits, conducted audits and reported findings in the form of audit reports. Based on
the research found the problem is the absence of written SOP, the dual position between the treasurer
doubles as head of sales. Nevertheless it can be concluded that KUD Mambal has done
a good internal control related to the sales function is indicated by the use fomulir barupa note
sheet and evidence of cash expenditure on each transaction and the pricing of a price using a
price based on the price of PERPADI Badung regency, and has been internal monitoring through
periodic evaluations every 3 (three) months against the target penjulannya so that operational
audit of the sales function merchandise has an important role in measuring the efficiency and
effectiveness seen from the survey and questionnaire research.
Downloads
Download data is not yet available.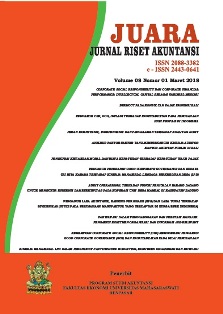 Downloads