IMPLEMENTASI CORPORATE GOVERNANCE PADA CORPORATE SOCIAL RESPONSIBILITY TERHADAP NILAI PERUSAHAAN
Keywords:
Corporate Social Responsibility (CSR), Nilai Perusahaan, Corporate Governance
Abstract
Company value is a perception of investors on the level of success of the company that is
often associated with stock prices. High stock prices make the value of the company also high.
A high corporate value will make the market believe not only in the company's current performance
but also in the company's prospects in the future. This study aims to determine the effect
of corporate social responsibility on corporate value with Corporate Governance as a moderating
variable in LQ 45 companies.
This research was conducted at LQ 45 companies listed on the Indonesia Stock Exchange
(IDX). The number of samples taken was 36 companies with purposive sampling method. The
research period from 2016 to 2017. The data analysis technique used is PLS Moderation
The results of this study indicate that corporate social responsibility (CSR) has a positive
effect on firm value. Corporate Governance is not able to moderate the influence of corporate
social responsibility (CSR) on corporate value.
Downloads
Download data is not yet available.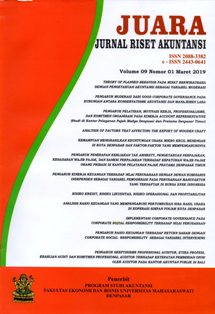 Downloads