PENGARUH PENERAPAN GOOD CORPORATE GOVERNANCE DAN BUDAYA TRI HITA KARANA TERHADAP KINERJA MANAJERIAL LEMBAGA PERKREDITAN DESA (LPD)
Keywords:
Principles Good Corporate Governance, Tri hita karana culture, Managerial Perfomance, LPD
Abstract
This study aims to determine the effect of the implementation of good corporate governance and
culture tri hita karana to managerial performance in nine Lembaga Perkreditan Desa (LPD) in
North Kuta District. Types of data used in this study are primary and secondary data. Sample
determination technique used in this research is saturated sampling technique by using questionnaire. The data testing technique used multiple linear regression with the first classical
assumption test consisting of normality test, multicolinearity test, and heteroscedasticity test.
The results showed that the principles of good corporate governance (X1) and tri hita karana culture
(X2) had a significant positive effect on LPD Managerial Performance in North Kuta District.
Good corporate governance has important principles that must be implemented in each agency
as one form of corporate governance towards achieving a succession of agencies and gain high
confidence. Each value of the philosophy of tri hita karana must be a guideline to form a mental
attitude, work ethic and character of human resources noble character so that it can change the
performance of Lembaga Perkreditan Desa (LPD) grow better and gain public confidence. It is
suggested that LPD in South Kuta Subdistrict and in Bali can make the principles of good corporate
governance and culture of tri hita karana as work guidance in LPD management.
Downloads
Download data is not yet available.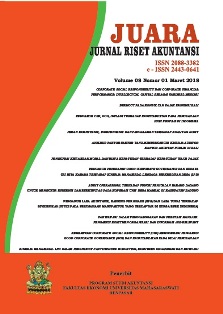 Downloads