THEORY OF PLANNED BEHAVIOR PADA MINAT BERWIRAUSAHA DENGAN PENGETAHUAN AKUNTANSI SEBAGAI VARIABEL MODERASI
Keywords:
attitude toward behavioral, subjective norm, perceived behavioral control, accounting knowledge, interest in entrepreneurship
Abstract
Unemployment is still a problem in this country. One of the causes of the high unemploy­ment rate is the lack of interest in community entrepreneurship. This study aims to explore the influence of the theory of planned behavior on interest in entrepreneurship with accounting knowledge as a moderating variable. The sample used is 224, namely the seventh semester students of the Accounting Study Program, Faculty of Economics, Warmadewa University. De­termination of the sample using Slovin formula and data collection techniques carried out by distributing questionnaires to respondents with the survey method. To answer the research hypothesis, use an analysis tool that is Moderated Regression Analysis. The results showed that the theory of planned behavior had a positive effect on entrepreneurial interest. Accounting knowledge is proven to strengthen the influence of attitude towards Behavioral on entrepre­neurial interest, and strengthen the influence of subjective Norm on entrepreneurial interests. But accounting knowledge is not proven to strengthen the influence of perceived behavioral control on entrepreneurial interests.
Downloads
Download data is not yet available.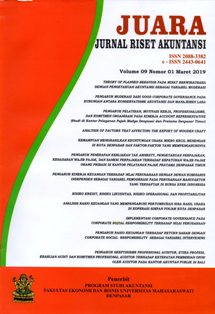 Downloads