PENGUJIAN KEWAJIBAN MORAL DAN BIAYA KEPATUHAN TERHADAP KEPATUHAN WAJIB PAJAK
Keywords:
moral obligation, compliance, compliance costs taxpayers
Abstract
This research aims to know the influence of moral obligation and the cost of compliance with taxpa­yer compliance. Research done by the method of survey through the dissemination of questionna­ires to taxpayers people personal at tax service office (kpp) east of denpasar. Further data obtained were analyzed quantitatively using SPSS assistance 16. Research results show that the positive effect significant moral obligation towards the taxpayer compliance, while the costs of compliance negative effect against a compliance by tax payers.
Downloads
Download data is not yet available.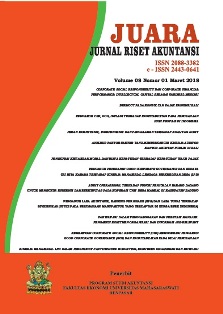 Downloads