BURNOUT PADA KONSULTAN PAJAK PROVINSI BALI
Keywords:
burnout, role conflict, role ambiguity, role overload, tax consultant
Abstract
 The type of stress that affects negative or dysfunctional (distress) on performance is called bur­nout. Role stressors as the cause of stress due to the role of role conflict, role ambiguity, and role overloads are factors that can affect burnout. This study aims to provide empirical evidence and discuss about the influence of role conflict, role ambiguity, and role overloads on burno­ut experienced by tax consultants. Role theory is used as the main theory that learned about the behavior in accordance with the position performed in the work environment and society. Population in this research is all tax consultants who work at Tax Consultant Office in Bali Pro­vince which have license of practice according to IKPI Directory year 2015. The research sample is determined by choosing purposive sampling method. The measurement instrument used in this research is questionnaire. Multiple linear regression analysis is a data analysis technique used in this study. The results showed tax consultants who experienced a burnout due to tax consultants experience role conflict, role ambiguity, and role overload in running the profession.
Downloads
Download data is not yet available.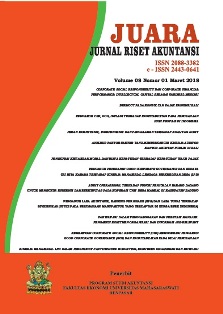 Downloads