Strategi Pengendalian Pencemaran Tukad Mati Dari Kuta Utara Hingga Kuta Selatan Berdasarkan Penentuan Status Mutu Air
Keywords:
Water quality, Tukad Mati, Pollution index
Abstract
Tukad Mati is a river that functions as a drainage channel and a water source for rice fields. Several embankments that have been built serve as inspection roads along the Tukad Mati cliffs. In measuring water quality parameters, it is necessary to carry out an integrated approach so that the formulation of pollution control strategies can be carried out properly. based on the Decree of the Minister of the Environment No. 115 of 2003 The status of water quality shows the level of quality condition of the source water by comparing the quality standards that have been set.The results of the study showed that the status of the water quality of the upstream and downstream parts of the dead water was lightly polluted. so that it is expected to carry out river management and empowerment by the government and the community around Tukad Mati.
References
Ali, A., Soemarno Mangku P. 2013. Kajian Kualitas Air dan Status Mutu Air Sungai Metro di Kecamatan Sikam Kota Malang. Jurnal Bumi Lestari, 13(2): 265-274.
Badan Lingkungan Hidup Kabupaten Badung. 2013. Hasil Pemantauan Kualitas Air Tahun 2013. Badan Lingkungan Hidup Kabupaten Badung.
Basur, T. A. 2004. Faktor-Faktor Lingkungan Abiotik dan Keanekaragaman Plankton sebagai Indikator Kualitas Perairan Danau Toba. Jurnal Manusia dan Lingkungan, Vol. 11(2): 11-16.
Halder, J., dan Islam, N. 2015. Water Pollution and its Impact on the Human Health. Journal of Environment and Human.
H. Effendi, A.A., Kristianiarso, E.M. Adiwilaga. 2013. Karateristik Kualitas Air Sungai Cihideung, Kabupaten Bogor, Jawa Barat". Ecolab Jurnal, Vol. 7(2): 81-92.
Kementerian Negara Lingkungan Hidup. 2003. Keputusan Menteri Negara Lingkungan Hidup Nomor 115 Tahun 2003 tentang Pedoman Penentuan Status Mutu Air, Berita Negara, Jakarta.
Peraturan Gubernur Bali No. 16 Tahun 2016 tentang Baku Mutu Lingkungan Hidup dan Kriteria Baku Kerusakan lingkunan Hidup, Provinsi Bali.
Widiantara et al. 2022. Penentuan Status Mutu Air Tukad Mati Dari Kuta Utara Hingga Kuta Selatan Berdasarkan Metode Indeks Pencemaran. Jurnal Ecocentrim, Vol. 2(1): 1-5.
Yulistia, E., Fauziyah, S., & Hermansyah, H. 2018. Assessment of Ogan River Water Quality Kabupaten OKU SUMSEL by NSFWQI Method. Indonesian Journal of Fundamental and Applied Chemistry.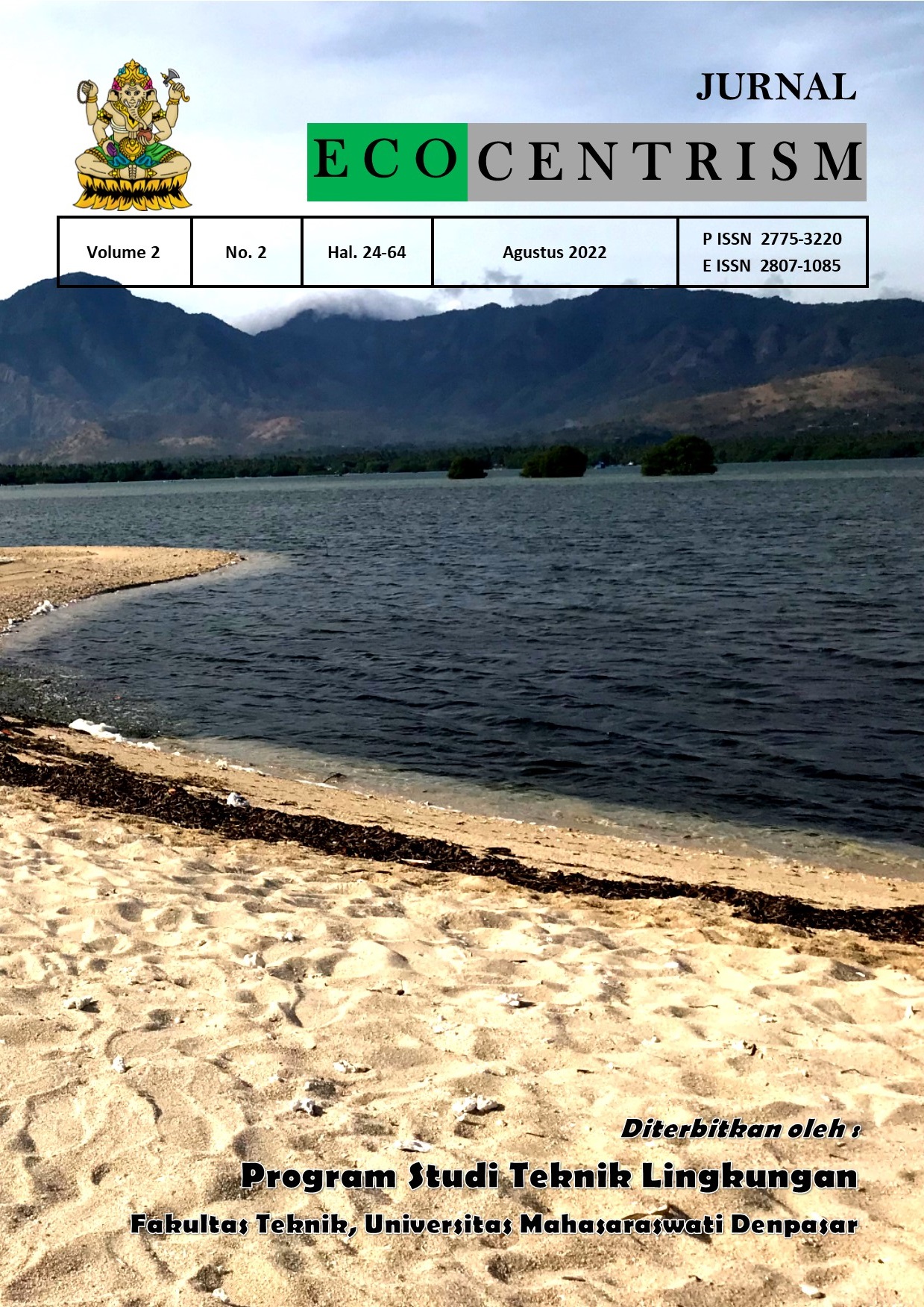 Downloads