REGULATIONAL POLICIES OF THE PROVINCE OF BALI PROVINCE GOVERNMENT IN PROTECTING AND EMPOWERING LOCAL ECONOMIC BUSINESSES INTEGRATED CULTURAL TOURISM
Keywords:
Policy, Protection, Empowerment, Economy, Cultural Tourism
Abstract
Bali as the center of the tourism industry requires a strong management in an effort to protect and empower the tourism economy of Bali. Local government policies are one of the reinforcements for the protection of Bali's economic development based on cultural tourism. As an island that really maintains the tradition of local wisdom, Bali has become a center of cultural tourism that puts forward the noble tradition as one of the potentials and selling points for Bali tourism. The regulations that are regulated should have to be adapted to the times but still be able to maintain the values of local wisdom, so it is necessary to study the policy settings of the Bali Provincial Government related to the development of the Balinese economy that is able to maintain local wisdom and be integrated with cultural tourism in the invasion of modern technological cultural development. .
The method used in this study is a qualitative research method which emphasizes the observation of the phenomenon and examines the substance of the meaning of the phenomenon. The analysis and sharpness of qualitative research is greatly affected by the strength of the words and sentences used. The focus of qualitative research is on the process and the meaning of the results. Qualitative research attention is more focused on human elements, objects, and institutions, as well as the relationship or interaction between these elements, in an effort to understand an event, behavior, or phenomenon. This study examines the provisions of economic business and Balinese cultural tourism which are integrated in the form of a dynamic arrangement so as to be able to combine modernization and superior culture into a unified regulation based on modernization and local wisdom.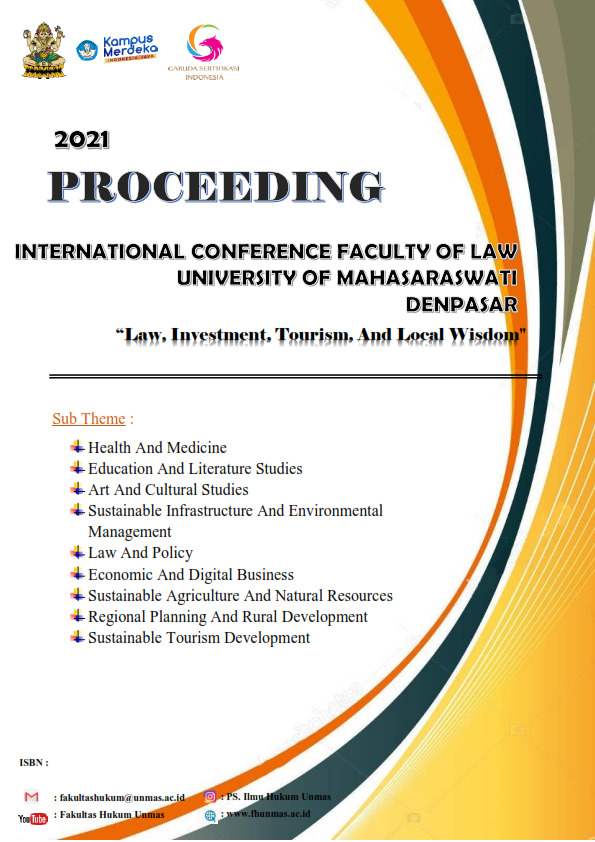 Downloads