SYNERGY BETWEEN TRADITIONAL VILLAGE AND LOCAL GOVERNMENT IN TOURISM INVESTMENT MANAGEMENT WITH PARTNERSHIP DEVELOPMENT PATTERN BASED ON TRI HITA KARANA IN BALI
Keywords:
Traditional Village, Tourism Investment, Tri Hita Karana
Abstract
Tourism investment activities in Bali today encourage the transformation of land as much as possible, the transfer of functions of very productive agricultural land, and areas that store historical, socio-cultural values that are very unique to become centers of tourism business activities. Such transformations are not infrequently accompanied by the elimination of certain societal values and systems, exploitation of the community in all its aspects of life, treatment of the people in setting and implementing policies. As a result, policies at the regional level and local Traditional Villages often clash, due to the lack of synergy between the Regional Government and Traditional Villages in managing investment activities in the tourism sector. For this reason, a partnership development pattern is needed in its management while still paying attention to the Tri Hita Karana concept in building sustainable Bali tourism. This study uses a normative legal research method using a conceptual approach and an approach to legislation. The data analysis method is carried out by collecting facts which are data through the study of library materials or secondary data which include primary legal materials, secondary legal materials, and tertiary legal materials, both in the form of documents and applicable laws and regulations relating to the normative juridical analysis of problems that arise.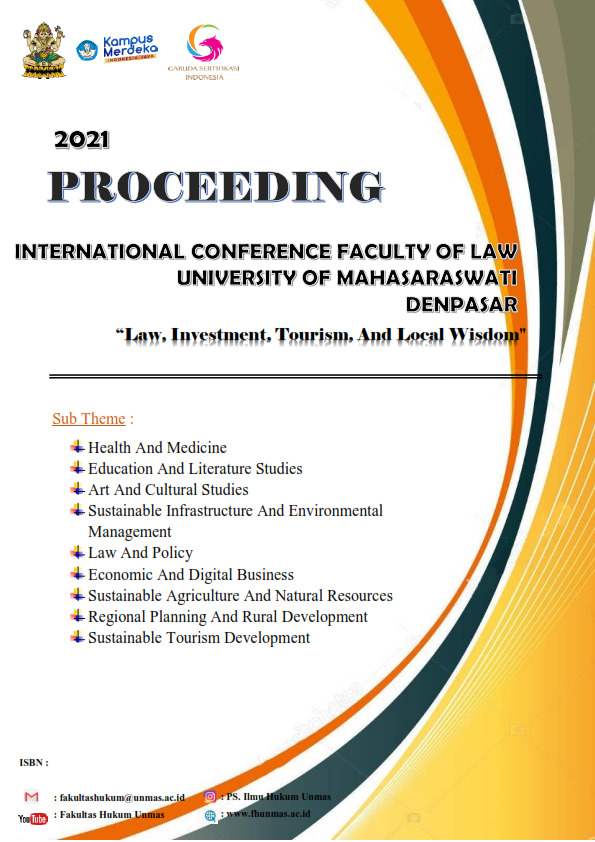 Downloads