ANALISIS SAMPAH ORGANIK SEBAGAI "ECO GARBAGE ENZYME" UNTUK PERTUMBUHAN TANAMAN SELADA (Lactuca Sativa L.)
Keywords:
Eco garbage enzym, Organic waste, Lettuce
Abstract
From the observation results conducted in the Badung market, organic waste deposits have the highest percentage, reaching 71.51%. The alternative of the market waste processing, especially vegetable and fruit skin organic waste, is by making environmentally friendly biopesticides. This biopesticide is called an eco garbage enzyme. This eco garbage enzyme is applied as an environmentally friendly biopesticide that will be used in hydroponic lettuce plants so that it can realize a healthy life style. This research aims to study the processing of organic waste into eco garbage enzyme of waste, and increase the effect of eco garbage enzyme on lettuce plants and increase the influence of eco garbage enzyme as environmentally friendly pesticides on lettuce plants. This study included experimental research with quantitative descriptive methods. This study produced an eco garbage enzyme which is the result of semi-aerobic fermentation that can be applied as an environmentally friendly biopesticide. This eco garbage enzyme make a significant contribution to root length, stem circumference, and dry weight of lettuce plants with the best concentration, namely 10 cc / L. environmentally friendly waste enzyme concentration
References
Bahrin, D., Anggraini, D., and Mutiara, B.P. (2011). Pengaruh Jenis Sampah, Komposisi Masukan, dan Waktu Tinggal Terhadap Komposisi Biogas dari Sampah Organik Pasar di Kota Palembang. ISBN: 979-587-395-4.
Bo, Z., Pinjing, H., Fan, L., and Liming, S. (2007). Enhancement of Anaerobic Biodegradability of Flower Stem Wates With Vegetable Wastes by Co- Hydrolysis. ISSN: 1001-0742.
Jana, I.W., Mardani, N.K., and Suyasa, I.W.B. (2006). Analisis Karakteristik Sampah dan Limbah Cair Pasar Badung Dalam Upaya Pemilihan Sistem Pengelolaannya. (Vol. 2). No. 2. ISSN: 1907-5626.
Peraturan Daerah Provinsi Bali Nomor 5 Tahun 2011 Tentang Pengelolaan Sampah.
Ris. (2016). Volume Sampah 850 Ton Per Hari, DKP Tambah Jam Lembur. Diakses 2 Oktober 2016, dari http://beritabali.com.
Saparinto, C. (2013). Gown Your Own Vegetable-Panduan Praktis Menanam Sayuran Konsumsi Populer di Pekarangan. Yogyakarta: Lily Publisher.
Saravan, P., Sathish, K.S., Ignesh, A., and Ajithan, C. (2013). Eco-Friendly Practice of Utilization of Food Waste. (Vol. 2). ISSN: 2319-6718.
Surat Keputusan Walikota Denpasar Nomor 188.45/ 195/ HK/ 2015 Tentang Penetapan Bank Sampah Di Kota Denpasar Tahun 2015.
Tang, F, E. & Chung, W.T. (2011). A Study of the Garbage Enzyme's Effects in Domestic Wastewater. Malaysia: World Academy of Science, Engineering, and Technology.
Undang-Undang Republik Indonesia Nomor 18 Tahun 2008 Tentang Pengelolaan Sampah.
Undang-Undang Republik Indonesia Nomor 32 Tahun 2009 Tentang Perlindungan dan Pengelolaan Lingkungan Hidup.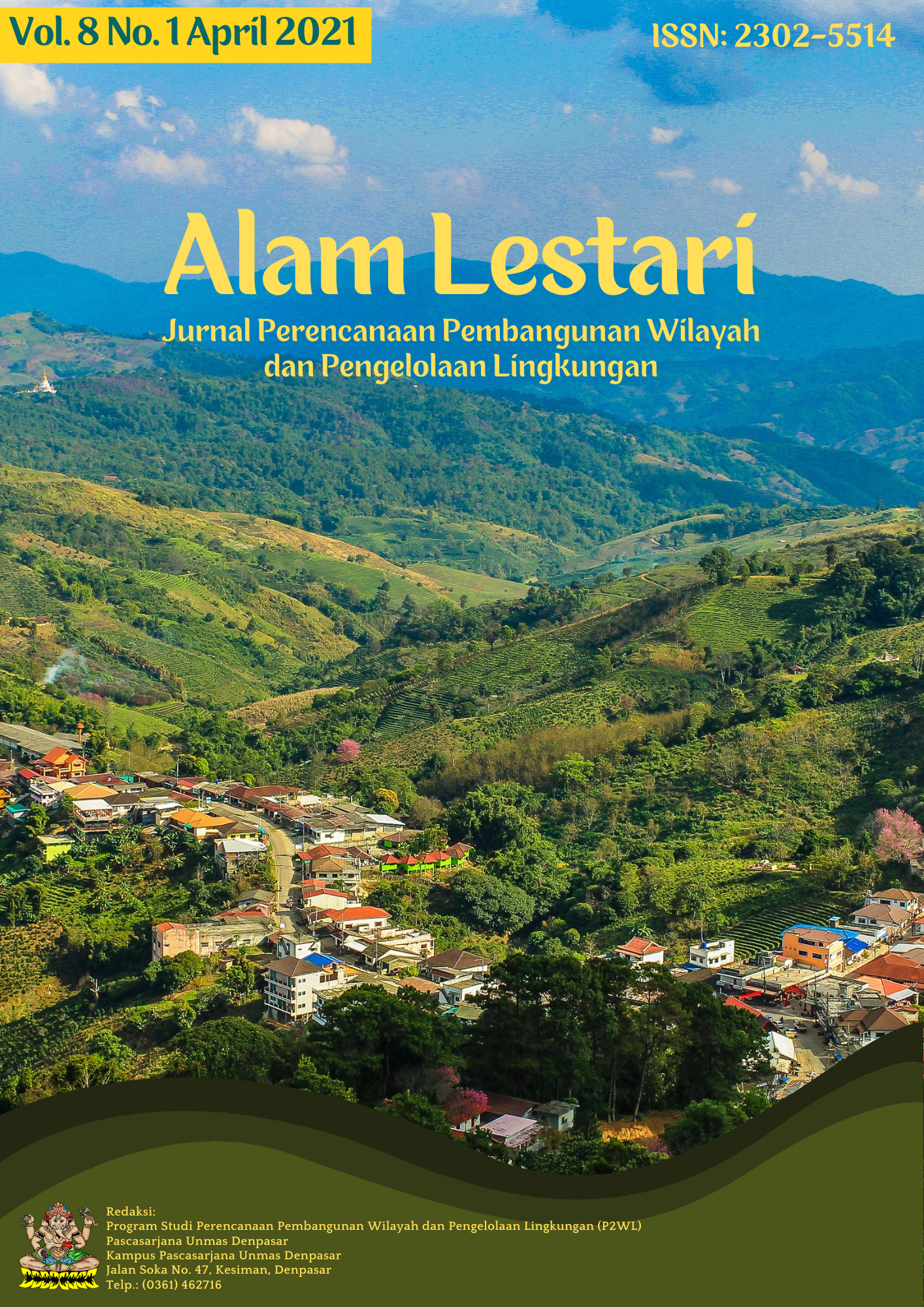 Downloads
How to Cite
Yuliandewi, N. W., Sukerta, M., Wiswasta, I. A., & Wahyuni, F. (2021). ANALISIS SAMPAH ORGANIK SEBAGAI "ECO GARBAGE ENZYME" UNTUK PERTUMBUHAN TANAMAN SELADA (Lactuca Sativa L.). Jurnal Alam Lestari, 8(1), 12–18. Retrieved from https://e-journal.unmas.ac.id/index.php/alamlestari/article/view/4353