MEDIASI HUBUNGAN INDUSTRIAL SEBAGAI UPAYA ALTERNATIF PENYELESAIAN PERSELISIHAN HUBUNGAN INDUSTRIAL
Keywords:
Employment Relations, Mediation, Industrial Relations Disputes
Abstract
Working relationships are generally relationships between employers and workers. The working relationship does not rule out the possibility of a dispute known as industrial relations disputes. industrial relations disputes that occur must necessarily be settled, of course, the settlement will be gradually starting from the settlement efforts non litigation until the settlement of the problems through litigation. With regard to the settlement non litigation, there is one of the efforts to resolve the dispute namely mediation. Mediation in the settlement of industrial relations disputes have distinctive characteristics that different from those of civil disputes in general. In the discussion, the four types of industrial relations disputes can be mediated through mediation. Dispute resolution efforts through mediation are non litigation settlement measures that are settled in a kinship manner resulting in mutually beneficial outcomes for the parties to the dispute. Settlement of dispute through mediation is also expected to solve the problem thoroughly so that the problem does not drag on until the litigation efforts are made.
Downloads
Download data is not yet available.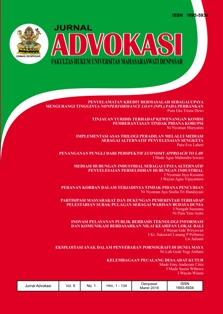 Downloads