PEMIKIRAN NEGARA HUKUM YANG KEBABLASAN
Keywords:
Though, Rule of Law, Supreme of Law
Abstract
The emergence of thinking that distributes the concept of the rule of law into several of these characteristics also has weaknesses that can make the thinking of the rule of law go too far. Indeed, in the supreme of law concept, law is the supreme commander who must be obeyed and obeyed by all levels of society, what if the law is likened to an evil man who does his will freely and arbitrarily, or a ruler who uses his political activities to impose absolute power on the community by hiding behind the shadow of the rule of law made by the authorities themselves, because that the law is the commander in chief who must be obeyed by the public, while those who form the commander in chief or the law is made by the demagogues.
Downloads
Download data is not yet available.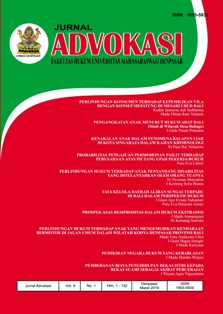 Downloads