PROSPEK ASAS RESIPROSITAS DALAM HUKUM EKSTRADISI
Keywords:
Prospect, Resiprocity, Extradition
Abstract
Based on the difficulties in creating treaty among states such as high  cost, long time and limitation of practicing of treaty made. Moreover the treaties is made by bilateral, it means they must make treaty with many countries many times.  Coused by those  reasons writer try to reappear the old forgotten principle that is "the principle of reciprocity"The purpose of this research is to know wether  this principle accordance with the general  principle of law and how about the prospect of this principle in the future. This research applied legal normative research and conducted by empiric data. Result of this research is this principle is accordance with the general principle of law which has being ruled in penal code of the country all over the world that is universal principle which is dedicated to abolish criminal in all over the world. In the future by practicing  the principle of reciprocity will be more effective in reducing the criminal offences all over the world   although among those countries has no extradition treaty.
Downloads
Download data is not yet available.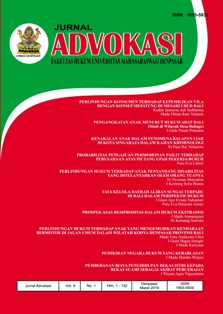 Downloads