TATA KELOLA DAERAH ALIRAN SUNGAI TERPADU DI BALI DALAM PERSPEKTIF HUKUM
Keywords:
Watershed, Legal Regulation, Regional Autonomy
Abstract
This research aims to analyze and answer the problems of integrated watershed management in the Province of Bali. This research is descriptive, specifically intended to provide a clear description of the implementation of the rule of law in integrated watershed management in the Province of Bali. In terms of its purpose, this type of research is empirical legal research. Management of Watersheds whose river flow areas across regencies or cities need to be coordinated with the district or city government under the coordination of the provincial government in this case the governor, because the management of cross-regency and city watersheds is the authority of the governor. With the coordination and use of policies based on ecoregions, it will produce sustainable watershed management for the benefit of the community in terms of management arrangements from upstream to downstream can be carried out in full, through the stages of planning, implementation, monitoring and evaluation, and guidance and supervision.
Downloads
Download data is not yet available.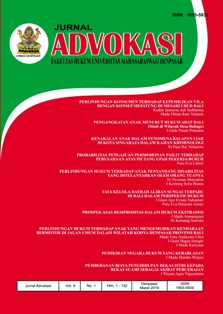 Downloads