PROBABILITAS PENGAJUAN PERMOHONAN PAILIT TERHADAP PERUSAHAAN ATAS PIUTANG UPAH PEKERJA/BURUH
Keywords:
workers, wages, creditors, bankruptcy
Abstract
This article discusses possibilities of workers/employees in submitting bankruptcy applications against companies that are in arrears in payment of wages for workers/employees. The vacuum of norms in Regulation Number 13 Years 2003 concerning Employment (Labor Law) provides a gap for workers/employees in finding solutions that are considered capable of providing forced power to obtain wage payments that are the entitlement of workers/employees based on bankruptcy law other than pursuing a pattern of resolving industrial relationship disputes based on the mechanism stipulated in the Labor Law and/or Regulation Number 2 Years 2004 concerning Settlement of Industrial Relations Disputes (PPHI Law) however, the problem is that there is no uniformity in jurisprudence that decides bankruptcy applications on workers/employees' requests despite bankruptcy legal proceedings provide more deterrent and certainty in the settlement of workers' rights in addition to the rights of other creditors.
Downloads
Download data is not yet available.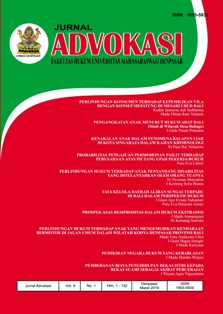 Downloads