KENAKALAN ANAKDALAM FENOMENA BALAPAN LIARDI KOTA SINGARAJA DALAM KAJIAN KRIMINOLOGI
Keywords:
juvenile delinquency, criminology, singaraja
Abstract
Factors that cause children to run wild races in Singaraja City, among others: causes that are included in internal factors are hobby factors. The factors that are included in external factors are environmental factors, betting factors, technological factors, and family factors. The four factors above are "external factors" originating from outside the actors that cause children to run wild races. In terms of outer, norms and rules in society are important factors to examine the problems of wild racing. The number of wild race actions carried out by children who are not old enough or can be said to be teenagers, can give us the assumption that moral values ​​and adherence to positive laws regarding the prevailing traffic in society have begun to diminish. So it can be said that children who engage in wild races do not have a strong external defense to protect and limit children from attacks and pressure from outside the child to commit an offense.
Downloads
Download data is not yet available.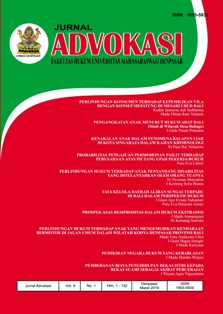 Downloads