PERLINDUNGAN KONSUMEN TERHADAP KEPEMILIKAN VILA DENGAN KONSEP MEPATUNG DI MESARI UBUD BALI
Keywords:
business contract, investment, mepatung concept
Abstract
Increased demand for villas, increasingly encouraging entrepreneurs or investors to invest in the form of establishment and ownership of the villa. Villa development capital that can reach hundreds to billions of rupiah certainly cannot always make someone who only invests Rp. 12,000,000.00 can fully become a villa owner. With a very small amount compared to the total investment, investors in Vila Mesari need to understand the status of villa ownership and their rights listed in the contract agreed upon by both parties. Moreover, the concept used is the mepatung concept, which means that one unit of villa is owned by a number of people together. In this study, data collection techniques used were document study techniques by collecting data sourced from literature relevant to the problem, then systematically grouped and then followed by interview techniques. Data was also obtained through an interview process with related parties, namely the management of Ubud Mesari Villas. So that it is expected to analyze the new contract model on the ownership of the villa with a mepatung concept at Vila Mesari Ubud Bali and test the power of law and justice for the contract parties so that later it can serve as a guide for businesses and consumers in the villa business with the Mepatung concept and can be applied according to conditions community in Bali.
Downloads
Download data is not yet available.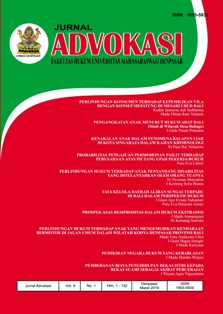 Downloads