ANALISIS KESALAHAN DALAM MENGERJAKAN SOAL PEMECAHANMASALAH DENGAN PROSEDUR NEWMAN PADA SISWA KELAS IX C SMPCIPTA DHARMA
Keywords:
mistake analysis, Newman Procedure, problem solving
Abstract
This research is a descriptive research that using qualitative method. The purpose of this research are knowingtypes of student mistakes in finishing a matter of solving problems with Newman Procedure and the reasonuntil those mistakes happen to them. Subject of this research are students of the last grade of Cipta DharmaSchool, class IX C. They are choosen by using purposive sampling method. It makes they are devided into 3groups; high class group, medium class group, and low class group. Then every 2 students of each class arechoosen as subject. So, finally there are 6 students as the subject of research. The data in This research is amatter of solving problem of operating material in algebraic forms and interview. The technique analysis datauses data reduction, data presentation, taking conclusion, and data validity (triangulisation). The result of thisresearch shows that from all three groups, the most often mistakes are 1) seeing the problems, 2) understandingthe problems, 3) transformation, 4) process skill, and 5) writing down the answer. All mistake are often doneby the low class group, the mistakes number 2 until 5 are often done by the medium class group, and number3 until 5 are often done by high class group. The reasons of mistakes that often done by all groups areincompentence in arranging the meaning of word thought in mind into grammatical structure, lack ofunderstanding of the meaning of word requested, inaccurate, answering questions in hurry, and inability tomanage time.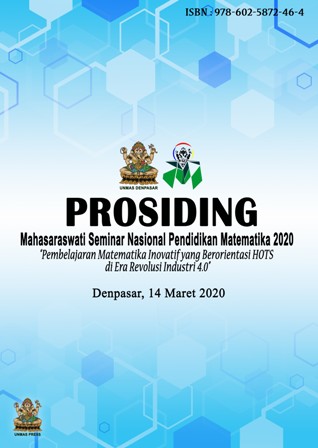 Downloads