ANALISIS KESALAHAN SISWA KELAS IX C SMP SAPTA ANDIKA DENPASAR DALAM MENYELESAIKAN SOAL SISTEM PERSAMAAN LINEAR DUA VARIABEL
Keywords:
Analisis Kesalahan, prosedur Newman
Abstract
ABSTRACT
Mathematics learning in SMP, especially at SMP Sapta Andika Denpasar includes many problems in the form of problem solving in the form of story questions, but not a few students find obstacles or difficulties in solving math problems in the form of stories, so students make mistakes in solving these problems. This study aims to describe the types of student errors and the factors that cause students' errors in class IXC SMP Sapta Andika Denpasar in solving math problems on a two-variable system of linear equations using the Newman procedure. This research method is a qualitative descriptive method. Data was collected using a written test method in the form of story questions and online interviews or video calls. The subjects of this study were students of class IX C SMP Sapta Andika. The results of this study indicate the types of errors made by students in solving math problems in the form of stories on the material of a two-variable linear equation system using the Newman procedure, namely (a) reading errors with a percentage of 8.955%, (b) understanding errors of 14.925%. (c) transformation error 14.925%, (d) process skill error 29.850%, (e) writing error 31.343%. While the factors that cause errors made by students are not being able to understand the questions given, not being thorough, not taking advantage of the available time, being in a hurry or in a hurry, forgetting, lacking practice in working on story-shaped questions.
Keywords: Error Analysis, Newman procedure
ABSTRAK
Pembelajaran matematika di SMP khususnya di SMP Sapta Andika Denpasar meliputi banyak persoalan berupa pemecahan masalah dalam bentuk soal cerita, namun tidak sedikit siswa yang menemukan kendala atau kesulitan dalam menyelesaikan soal matematika dalam bentuk cerita, sehingga siswa melakukan kesalahan dalam menyelesaikan soal tersebut. Penelitian ini bertujuan untuk mendeskripsikan jenis – jenis kesalahan siswa dan faktor – faktor penyebab kesalahan siswa kelas IXC SMP Sapta Andika Denpasar dalam menyelesaikan soal matematika pada materi sistem persamaan linear dua variabel dengan menggunakan prosedur Newman. Metode penelitian ini merupakan metode deskriptif kualitatif. Pengumpulan data dilakukan dengan menggunakan metode tes tertulis berupa soal cerita dan wawancara secara online melalui video call. Subjek penelitian ini adalah siswa kelas IX C SMP Sapta Andika. Hasil penelitian ini menunjukan jenis-jenis kesalahan yang dilakukan siswa dalam menyelesaikan soal matematika berbentuk cerita pada materi sistem persamaan linear dua variabel dengan menggunakan prosedur Newman, yakni (a) kesalahan membaca dengan persentase 8,955%, (b) kesalahan memahami 14,925%. (c) kesalahan transformasi 14, 925%, (d) kesalahan keterampilan proses 29,850%, (e) kesalahan penulisan jawaban 31,343%. Sedangkan faktor-faktor penyebab kesalahan yang dilakukan siswa adalah tidak dapat memahami soal yang diberikan, kurang teliti, kurang memanfaat waktu yang ada, terburu-buru atau tergesa-gesa, lupa, kurang berlatih mengerjakan soal berbentuk cerita.
Kata Kunci : Analisis Kesalahan, prosedur Newman.
References
Ahmad, Susanto. 2013. Teori Belajar dan Pembelajaran di Sekolah Dasar.
Jakarta: Kencana Prenada Media Grup.
Amelia, R., Aufin, M., & Khusniah, R. 2018. Analisis Kesalahan Dalam Menyelesaikan Soal Cerita Pada Pokok Bahasan Persamaan Linear Berdasarkan Newman Kelas X Mia di SMA Bayt Al-Hikmah Kota Pasuruan. Seminar Nasional Matematika Dan Pendidikan Matematika, II, 346-359.
Jha, S. K. 2012. Mathematics Performance of primary school student in assam (India): An analysis using Newman Procedure, International journal of computer Applications in Engineering Sciences, II(1), 17-21.
Clement, Ken, dkk. 1980. The Newman Procedure for Analysing Error on Written Mathematical Tasks. [Serial Online] http://compasstech.com.au/ARNOLD/PAGES/newman.htm [2 Oktober 2015]
Noviyanti, Putu Ledyari. 2021. Analisis Kesalahan Mahasiswa Dalam Menyelesaikan Soal Kalkulus III. Jurnal Pembelajaran Dan Pengembangan Matematika (PEMANTIK), 1 (2), 72 – 81.
Payadnya, I Putu A. A., & Jayantika, I Gusti A. N. T. 2018. Panduan Penelitian Eksperimen Beserta Analisis Statistik dengan SPSS, Yogyakarta: DEEPUBLISH.
Russeffendi, E. T. 2006. Pengantar kepada Membantu Guru Mengembangkan Kompetensinya dalam Pengajaran Matematika untuk meningkatkan CBSA. Bandung : Tarsito
Sugiyono. 2012. Memahami Penelitian Kuantatif. Bandung: Alfabeta
Sugiyono. 2015. Metode Penelitian Pendidikan. Bandung: Alfabeta
Ridwan. 2010. Skala Pengukuran Variabel-variabel Penelitian. Bandung: Alfabeta.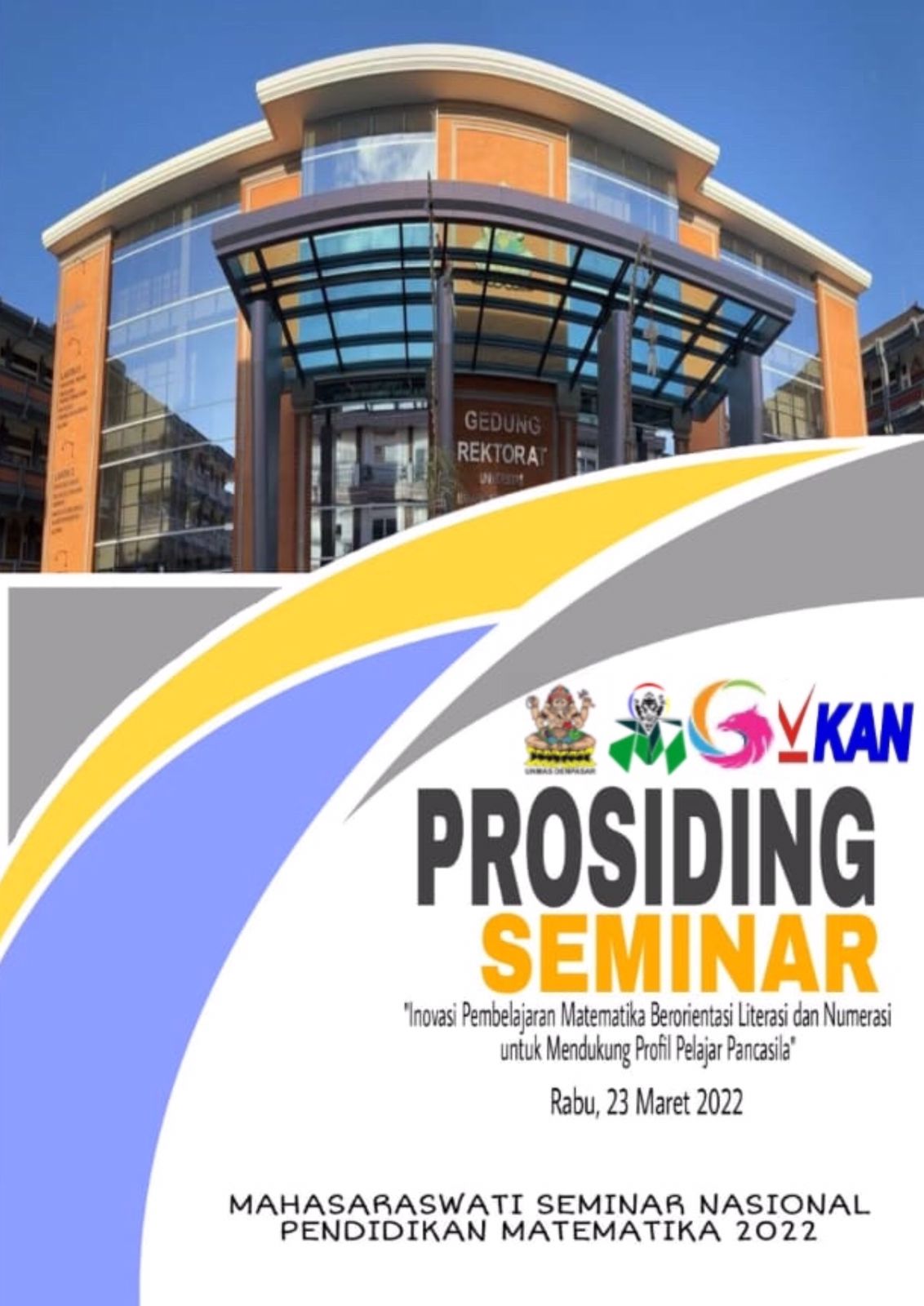 Downloads