INTEGRATED SOLID WASTE MANAGEMENT STRATEGY BASED ON COMMUNITY
(Case Study : Pandawa Beach Tourist Area, Kutuh - Badung)
Keywords:
Strategy, Garbage, Tourism, Community
Abstract
Garbage is a problem faced by coastal resort manager Pandawa Kutuh Bali. Waste management method with the old system without any processing before it is time to be replaced with integrated waste management system based on community. Integrated waste management is systematic, comprehensive, and sustainable that includes waste reduction and handling by involving various systems from regulatory, organizational, operational, financing and community participation aspects. This research emphasizes on technical planning and waste management covering service system from collection, transportation and processing. The Average waste generation in Pandawa Beach Resort Area was 3, 42 liters / person / day, with a predominance of organic waste coconut shells. Integrated waste management system had not been optimally implemented. The amount of waste produced must be well managed and correct so that the Pandawa beach area is free of waste and worth to be visited by tourists and expected to reduce the pile of garbage in the Final Processing Place.
Downloads
Download data is not yet available.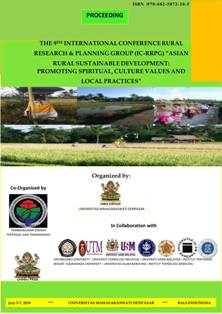 Downloads