Gambling in the temple area: between social phenomena and legal issues
Keywords:
Gambling, Tajen, Temple, Social and Legal issues
Abstract
Gambling done in the temple area is often found when there are religious ceremonies in Bali. Gambling is done by running a cockfighting game or in Bali known as tajen. Local people hold a gambling arena and organize a game that was followed by villagers. Game of gambling in the temple area, is considered as a means to socialize with fellow citizens. This research is an empirical legal research. Data are in the forms of primary data and secondary data, collected through observation and literature study. The data collected qualitatively and presented analytically in descriptive way.
Tajen gambling violates Article 303 of the Criminal Code and 303 bis of the Criminal Code and violates the religious norm, namely Rg Veda (10.34.13). Despite breaking the law and the teachings of Hinduism, tajen gambling still exists, even done in the temple area. This condition happens because tajen is still supported by the local community. In addition, this activity also provides financial income for indigenous villages, temple development and local communities by renting parking lots and sell foods and beverages. Tackling gambling in the temple area can be done by religious approach, approach to customary village and through law to create a good social environment.
Downloads
Download data is not yet available.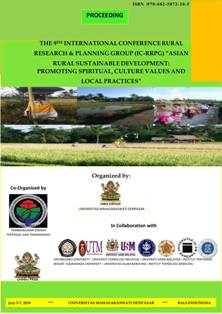 Downloads