Revitalization of Sekaa Teruna Institution at Pakraman Intaran Village in Drugs Mitigation Among Adolescents
Keywords:
Sekeha Teruna, Drug Abuse, Drugs
Abstract
Bali as an international tourist destination with the concept of cultural tourism has led the tourism industry as a major sector in the economy of the people of Bali. Formerly a tourist location created for the means of tourist approach but nowadays has now been widely abused for the circulation of narcotics. The existence of local organization as one of the nodes of Bali culture become its own attraction, One of the local cultural nodes in pakraman village unit interesting to study is Sekaa Teruna. Responding to the phenomenon of youth and Indonesian youth currently faced with a condition that can threaten the survival, the present and the future of youth is the circulation of narcotics that destroy the generation of the nation, it is deemed necessary to revitalize the institutional organization of Youth Tereka Sekaa. This research was conducted in Desa Pakraman Intaran Sanur which is one of pakraman village which active in cultural and artistic activity in the middle of globalization era today. This research is designed to build with a critical qualitative approach that is a research whose objective is not only to explore the meaning of ethics but also to create the meaning of ethics. This study highlights various issues related to the behavior, interaction and role of Sekaa Teruna in Pakraman Intaran village in the prevention and control of drugs.
Downloads
Download data is not yet available.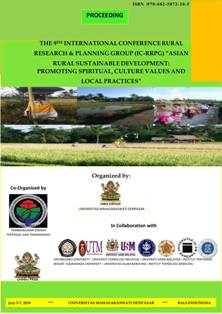 Downloads