Biological Character of Cucumber Mozaic Virus (CMV) Isolates from Bali
Keywords:
character, biology, isolate, CMV , Bali
Abstract
This research aims at biologically characterizing the CMV isolates from Bali so that they can add the collection and knowledge about the biological character of CMV isolates from Bali. Characterization of the biological properties of CMV isolates performed through the following steps: 1) Propagation of CMV isolates from different host plants (cucumber, melon, watermelon, tomato, pumpkin, chilli, green eggplant and long bean) on N. glutinosa plant, 2) Purification of CMV isolates through inoculation mechanics of C. sativus and C. amaranticolor plants, 3) CMV isolates and 4) serological detection with I-ELISA. The results showed that total isolates obtained from the field are 36 isolates, only 18 isolates showed symptoms on N. glutinousa plants, while 18 other isolates did not show symptoms. Isolates showed symptoms of N. glutinosa plants were 4 isolates from cucumber plant, 3 isolates from eggplant, 1 isolate from pumkin, 3 from isolates chili, 2 isolates from tomatoes, 2 isolates from long beans and 3 isolates from watermelon. The types of symptoms appeared were varied, e.g,10 mosaic symptomatic isolates, 4 malformation symptomatic isolates, and 4 necrotic symptomatic isolates. I-ELISA detection using CMV antiserum was able to obtain 6 positive CMV isolates from cucumber (CMV-MB isolate), watermelon (CMV-TRB isolate) watermelon (CMV-SB isolate), chili (CMV-CB isolate), pumpkin (CMV-LB isolate) and tomato (CMV-TB isolate). The result of biological isolate test of CMV from Bali, mosaic symptoms occurred on Nicotiana glutinosa plant, Capsicum annuum (big chili), Cucumis sativus (cucumber), Lycopersum esculentum (tomato) and Cucurbita moschata (pumkin). Severe mosaic symptoms occured only in the Cucumis sativus (cucumber) plant. Vigna sinensis (long bean) infections of CMV isolate -Bali only caused symptoms of malformations and even no symptoms.
Downloads
Download data is not yet available.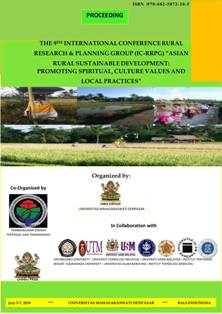 Downloads