Nutrition Bali Holy Medicinal Plants For General and Orodental Health
Keywords:
Nutrition, Holy Medicinal Plants, Orodental Health
Abstract
Bali holy plants as functional food, always there as a means of ceremonial prayer, but not unusual for consumption. Dental and oral health is very important and is related to overall health. There are 38 traditional Bali medicinal plants being studied. Though this plant is grown in almost every home and grows fertile, but not yet used as a fuctional food or health therapy. Apparently still a little bit is researching nutrition Bali holy medicinal plants for general and orodental health. This study learns the nutritional assorted of holy medicinal plants efficacious traditional Balinese medicine that efficacious for general and orodental health. This study was conducted for two months, and aims to determine the type of plant or plant species, part of the plant used, and the type of nutrients it contains. This research is an observation research, by reviewing the holy plants that have been used for health and therapy at least, data is taken through interview, the result is described (reviewed) with articles in e-library such as PubMed, EBSCO and others. The results of this study found a number of four holy plants which has been used for medicinal properties, including base (sirih) (Piper betle L.), buah (pinang) (Areca catechu L.), selasih miik (tulasi)(Ocimum sanctum L.), jepun (kamboja) (Plumeria sp.). The essential nutrients contained are proteins, vitamins beta carotene (provitamin A), B, C, D, E, K, minerals of calcium, potassium, magnesium, iron, phosphorus, iodine, fluoride, sulfur, manganese and chlorophyll. The most nutrient content found in the leaves, after that in the flowers and lastly in fruit or seeds.
Downloads
Download data is not yet available.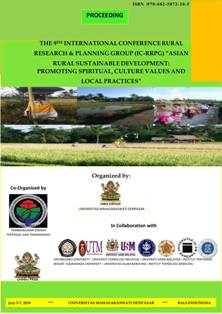 Downloads