CSR AND TRI HITA KARANA: HOW THEIR IMPLEMENTATION AFFECT COMMUNITY WELFARE
Keywords:
Corporate Social Responsibility ; Tri Hita Karana ; Community Welfare; Sanur; CSR Implementation
Abstract
This study was intended to show an empirical result of the influence of CSR implementation based on Tri Hita Karana by Swiss-Belresort Watujimbar in community welfare on Sanur. CSR concept emphasizes that business's purpose should not only focused on profit, but also should be focused in giving a positive impact to the community, as one of firm's stakeholder. Tri Hita Karana is a local concept which is well-known in Bali. Tri Hita Karana is a concept that emphasizing a balance or harmonious relationship of human with God (Parahyangan), human with another human (Pawongan), and human with its environment (Palemahan). The compliance of these elements is believed by local community will provide welfare. Therefore, the implementations of CSR by the company are expected to be based on these concepts in order to achieve the community welfare. The questionnaire method used to determine the extent of the impact that community perceived by the implementation of CSR. This research population is the whole community of Sanur. Sample was selected based on two criteria, (1) Sanur village local community (has an local identity), (2) and in the range of productive ages, has generated 11.600 people as research sample. By using Slovin formula, the questionnaire which distributed in this study is 387 questionnaires. The regression analysis shows that CSR implementation based on Tri Hita Karana by Swiss-Belresort Watujimbar has positively affect the welfare of Sanur community. This indicates that, the implementation of CSR has in accordance with the concept, or with the community necessity.
Downloads
Download data is not yet available.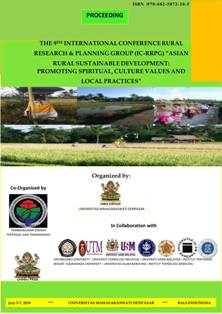 Downloads