The Roles of Al Muktafi Billah Township in the transformation of Rural Community Living in the KETENGAH Central
Keywords:
Al Muktafi Billah Shah, standard of living, rural development planning, rural community and living conditions environment.
Abstract
Over the last few decades, rural development in Malaysia has undergone several stages of transformation which were parallel with the aims of national and regional development policies and strategies. Currently, the rural transformation agenda is up to the next crucial step which is enhancing the prosperity and well-being of rural communities. This paper attempts to examine the roles of Al Muktafi Billah Shah in terms of providing services for local people to fulfil their inspirations and needs. The analysis is supported by household survey data to provide current demographic and socioeconomic characteristics as well as the standard of living of rural communities in the region. Finally, this paper concludes with the future pathways for rural development planning to catapult the national inspiration towards a resilient rural community. A high strategic content plan has been adopted to enable it to grow progressively. It also has to serve the people as what they need and demand without compromising the quality of living conditions environment and resources.
Downloads
Download data is not yet available.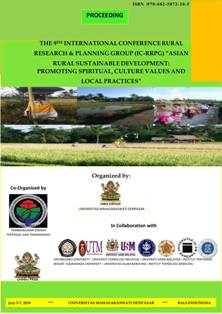 Downloads